News
June 13, 2019
NYACP Newsletter: Your Chapter in Action
Annual Scientific Meeting Registration Open. . . Call for Abstracts. . . Chapter Action in Ending Non-Medical Vaccination Exemptions
---
Education
2019 NYACP Annual Scientific Meeting Registration Now Open!
Friday, October 11: MOC Pre-Courses | Saturday, October 12: Annual Meeting
Hilton Westchester Hotel | Rye Brook, NY
Register Here | Course Schedule and Details | Call for Abstracts

Message from the Program Chair:
Dr. Masani will welcome attendees at 8:00 am
Naveed Masani, MD, FACP
Education and Program Committee Chair

We hope you will join us on Friday, October 11 and Saturday, October 12 for the next NYACP Scientific Meeting in Rye Brook, New York. This two-day event will have something for everyone! If you need MOC points and CME Credits - sign up for the ABIM Pre-courses on Friday, October 11th. On Saturday, begin the day with the very popular poster competition which will display over 100 posters from the Resident/Fellow and Medical Student Members. We hope you will mark the date in your calendar as we continue to update you with faculty highlights and educational opportunities!

ABIM MOC Sessions and MLMIC Course: Friday, October 11, 2019
Topics:
2019-2020 Update in Hospital Medicine
2019-2020 Update in Internal Medicine
MLMIC Session: Million Dollar Claims Session
Annual Scientific Meeting: Saturday, October 12, 2019
Plenary and Breakout Sessions:
The Technology of Healthcare -
Artificial Intelligence
Direct Oral Anticoagulants: Pearls & Pitfalls
Women's Health: Cardiovascular Issues in Pregnancy
Point of Care Ultrasound
Repurposing Old Medicines for New Uses
Managing of Osteoporosis

Evidence Based Management
of Hypertension in 2019
"Social Media" Strategies for Meaningful
Engagement as Clinicians and Educators"
Burnout and Physician Wellness
MACRA Update
Conflicting Date of Aspirin
Update on Lipids Management

Musculoskeletal Diagnosis Utilizing History
and Physical Examination: Focus on Spine
Population Health
Women's Health: Diabetes and Cardiac Problems
Medical Marijuana
Leadership in Medicine
Final Plenary: Avoiding Medical Liability Suits
---
Attention NYACP Residents and Medical Students: Call for Abstracts
The Chapter is now accepting abstracts online for the NYACP Annual Scientific Meeting poster competition on Saturday, October 12, 2019 at the Westchester Hilton Hotel in Rye Brook, NY.
The deadline to submit your abstract is Friday, July 12, 2019
If you have worked on a research project or have an interesting clinical case, submit your abstract for a chance to present in the following categories:
Research
Clinical Vignette
Quality, Advocacy and Public Policy Category (Resident & Medical Student combined category)
Click on each category to learn more: ****Please note: we no longer require a username and password when submitting an abstract
Program/Clerkship Directors will be notified of competition results the week of September 2, 2019.
NYACP staff DOES NOT notify individuals of the results.
---
Upcoming Events:



Webinar: MedEd 2.0: The Changing World of Medical Education, and Why It's Important for Your Career

Thursday, June 27, 2019 | 12:00 - 1:00 pm

Join us for a lively discussion! By the end of the session, attendees will be able to:

- Understand how medical education is rapidly changing
- Describe how being an educator can advance your career
- Define the different types of learners
- Learn how to integrate teaching into your daily practice
- Review techniques for teaching in various clinical settings

Speakers:
Marc Braunstein, MD, PhD
Clinical Assistant Professor, Department of Medicine,
NYU Winthrop and NYU Long Island School of Medicine
Jonah Feldman, MD, FACP
Clinical Assistant Professor, Department of Medicine,
Assoc. Program Director, Internal Medicine Residency,
NYU Winthrop and NYU Long Island School of Medicine
Space is Limited - Click Here to Register
---
Advocacy
NYACP Advocacy Effort on Ending Non-Medical Vaccination Exemptions for New Yorkers
New York State Bill A.2371/S.2994, which clarifies that the only permissible exception from New York's vaccination requirements is if a patient's medical condition would place them at risk for adverse outcomes if immunized, is currently in Committee, but will soon be placed for a vote. NYACP has commenced an advocacy call-to-action in strong support of these bills, and more than 70 members and 175 messages have been sent to New York legislators urging them to pass the bill, all in just a few short days.
As of June 7, 2019, there were 890 measles cases confirmed in New York State by the CDC. Local authorities in affected counties and in New York City have declared that they are facing a public health emergency. This is now the greatest number of measles cases reported in the U.S. since the CDC declared measles eliminated in 2000.
The U.S. Supreme Court has long held that a state can mandate vaccines and accompany those vaccine mandates with a criminal fine for those not in compliance. More broadly, the court ruled that the state can impose "reasonable regulations" to protect the public health, even when such regulations interfere with individual rights. The case – Jacobson v. Massachusetts, has since been a staple of public health law. Throughout the years, there have been challenges to this case, but the court continues to maintain this precedent.
Asserting religious exceptions to vaccinations impacts not only those asserting the exception, but also those who interact with them who may not have received the vaccination due to medical reasons or who are too young to even be immunized. Under proposed legislation, parents would continue to maintain the legal right to refuse immunizations for themselves and their children. However, they would not have the right to send their children to licensed infant and child care programs or to public school and expose other young children, students and staff. We urge your support of this legislation on behalf of all New Yorkers.
NYACP will continue to monitor these bills and inform members of their progress. Please join NYACP in this call to action campaign here.
---
Chapter News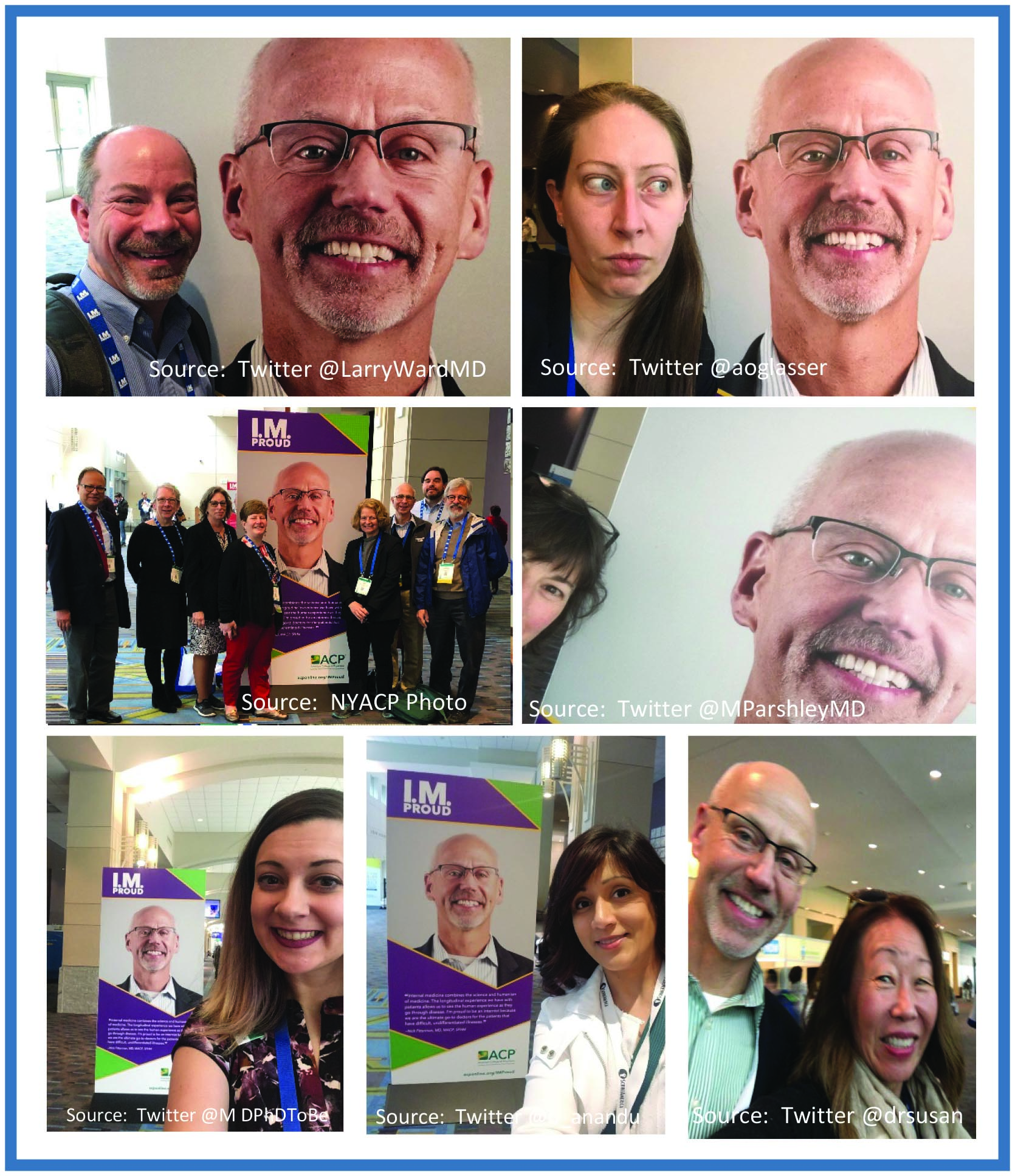 Did you participate in the selfie challenge at the ACP Internal Medicine Meeting 2019? Maria Carney, MD, FACP joined Avi O'Glasser MD, FACP of Oregon in a little friendly competition for the most selfies with two of the posters displayed at the venue. She took to Twitter to pledge $5.00 to the ACP Education Fund for anyone who shared a selfie with Former NYACP President Nick Fitterman's poster. As news of the challenge traveled, a local organization combatting hunger, Philabundance, was added.
"It was a way to bring attention to the organizations," said Dr. Carney. "People were jumping in on Twitter [saying] that they would match the donations. Some donated to both organizations and increased what they originally said they would contribute." Frank Cacace MD, FACP, and Daniel Pomerantz MD, FACP were two of the members who pledged to match Dr. Carney's donation.
Dr. O'Glasser's poster "won" with 110 selfies and donations totaling at least $1,500. The competition generated a whole lot of fun and was a great way to get people involved in giving back. Who knows what will happen at IM 2020!
If you or an NYACP member (Physician, Resident or Medical Student) has a great volunteer story, we want to know! Please contact Amanda Allen at aallen@nyacp.org.