NYACP is dedicated to advancing the specialty of Internal Medicine and improving patient care in New York State through education, advocacy and quality improvement.
Goals
To

advocate

responsible positions on individual health and on public policy relating to health care for the benefit of the public, our patients, the medical profession and our members;
To

serve

the professionals needs of the membership, support healthy lives and improve the practice environment for physicians, and

advance internal medicine as a career

;

To promote and conduct research to enhance the quality of practice, the

education and continuing education of internists

,

and the attractiveness of internal medicine to physicians and to the public;
To

recognize

excellence and distinguished contributions to internal medicine; and
To

unify

the many voices of internal medicine and its subspecialties for the benefit of our patients, our members, and our profession.
---
The American College of Physicians Member Pledge
I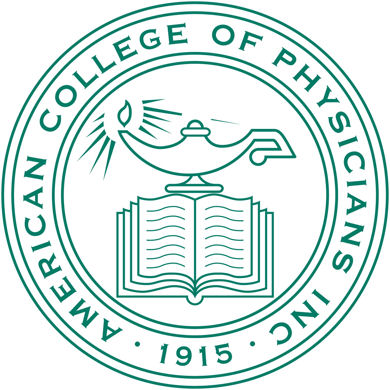 affirm my belief in the mission of the American College of Physicians,
To preserve and maintain the highest traditions and precepts of our professional calling,
And I solemnly declare that I will conform to these idealsto the utmost of my ability.
I therefore reaffirm my dedication to the practice of medicine
To act always in the best interests of my patients,
To respect the reputation and integrity of my colleagues,
To supplement my own judgment with the counsel of otherswhen the occasion requires,
To render assistance to my colleagues in every way,
To extend my professional aid to the unfortunate,
To increase my medical knowledge and understanding by continuing study by association with physicians of the highest intellectual and ethical standards and by the free exchange of information and experience with all of my medical colleagues.
I hereby pledge to uphold the ethics of medicine as exemplified by the standards and traditions of this College.