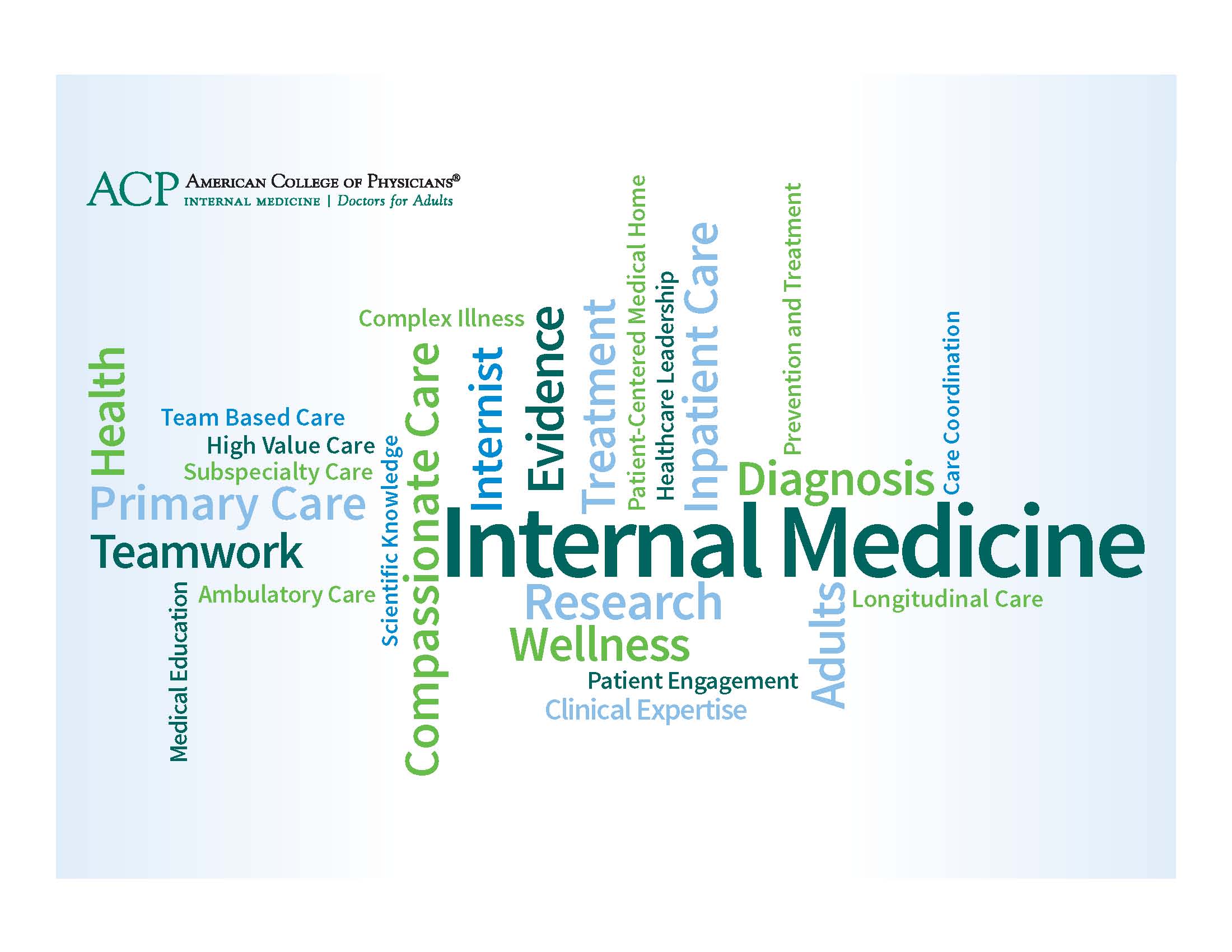 The New York Chapter of the American College of Physicians (NYACP) is a membership organization dedicated to advancing the specialty of Internal Medicine in New York State through education, advocacy and quality improvement. With offices in Albany, volunteer physician leaders across the State, a dedicated full-time staff, effective communications and local, regional and state-wide meetings, the New York Chapter is structured to respond to members as quickly and efficiently as possible. We are New York State's largest medical specialty organization representing over 12,000 internal medicine physicians.
The American College of Physicians (ACP) is the largest national medical-specialty organization and second-largest physician group in the United States. Its membership of 154,000 includes internists, internal medicine subspecialists, and medical students, residents, and fellows.
What is Internal Medicine?

Internal medicine physicians are specialists who apply scientific knowledge and clinical expertise to the diagnosis, treatment, and compassionate care of adults across the spectrum from health to complex illness...> Learn More

Chapter Awards
ACP Chapter Excellence Awardee
The award recognizes chapters which successfully meet the standards for managing a chapter.
The Chapter would like to extend a special thank you to the membership! For your hard work and dedication, we received this award.
Our Mission

Together we can advance the specialty of Internal Medicine in New York State with one unified voice. Review our Corporate Structure here.
Leadership

The Chapter is organized into 5 "regions" and 16 "districts" that provide members immediate access to their local leader volunteers.
Committees and Task Forces

Develop your own leadership path by participating on one of our committees and task forces.
NYACP's Diversity Policy
The New York American College of Physicians' membership comprises a diverse population of internists, subspecialists of internal medicine, and medical students. NYACP values diversity and views it as one of its greatest strengths. The College welcomes prospective members regardless of race, ethnicity, gender; religion, age, sexual orientation, nationality, disability, appearance, geographical location and professional activity, such as private practice, research, or academic medicine.
NYACP strives to encourage internists and subspecialists of internal medicine from diverse groups to join the College, participate in chapter activates and seek to attain positions of leadership. NYACP believes that a commitment to diversity strengthens the organization's capacity to respond to the needs of its members and their patients, i.e., to recognize that diversity is an important aspect of infrastructure that enhances relevance and effectiveness.
NYACP Staff

Member service is our priority. Contact us today!



Home




Last Updated 6.29.20