Chapter News
ACP Leaders Meet in Philadelphia for Spring 2019 Board of Governors Meeting
On April 9-11, 2019, ACP Chapter leaders from across the country and abroad met in Philadelphia to discuss current issues of importance in healthcare and review governance policies of the ACP. These meetings are a chance for all ACP Chapters to discuss timely issues, concerns, and priorities, and to act on resolutions in addressing such issues.
Three resolutions from New York were acted upon: The first two: (1) Determining the Average Costs to Medical Practices of Use of Health Information Technology, EHR Enhancements, and Improved Interoperability, and Protecting Physicians from These Costs and (2) Advocating for Group Medical Visit Reimbursement Provided via Telehealth were amended and adopted. The third, Amending the Emergency Medical Treatment and Labor Act (EMTALA), was referred for study - meaning that it will be researched over the next year and brought back at next year's Board of Governors meeting.
If you want to learn more about the resolution process and how to submit, please visit NYACP's Resolutions Page.
New York Doctor's Dilemma Team Advances to Semi-Finals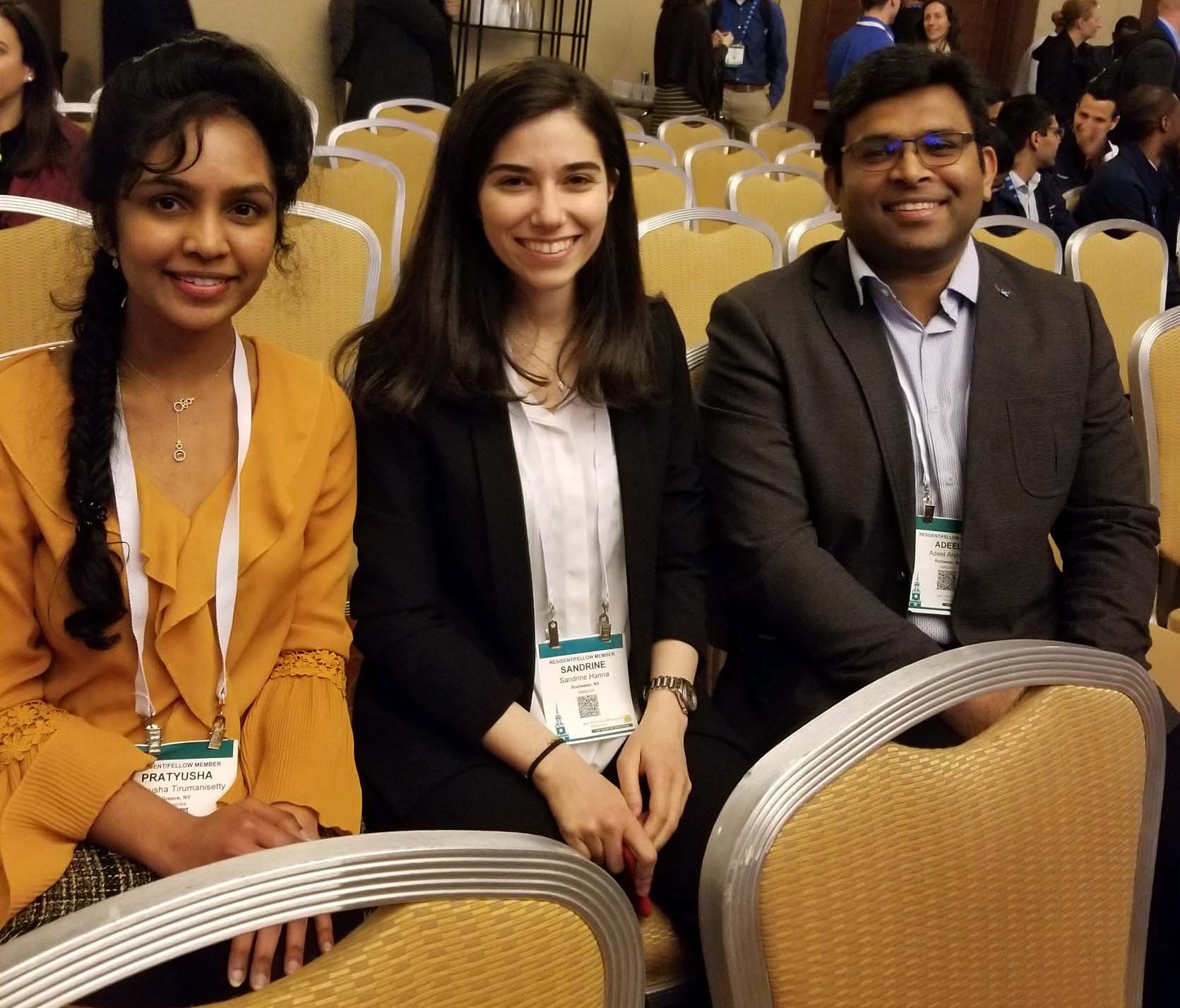 The ACP Doctor's Dilemma Competition is held each year at the Internal Medicine Meeting, where it brings together some of the brightest residents from around the world in a medical Jeopardy-style competition. The 2019 competition featured 52 teams, each representing an ACP Chapter.
New York Chapter's own Rochester Regional Health/Unity Hospital team won NYACP's Doctor's Dilemma in February and was sent by the Chapter to the National Competition. They won the first round of the National Competition to advance to the semi-finals, but unfortunately did not advance any further.

Congratulations to Adeel Arshad, MD, Sandrine Hanna, MD, and Pratyusha Tirumanisetty, MBBS from Rochester/Unity Hospital for representing New York! We are very proud of you!
---