Early Career Physicians
NYACP represents over 1200 Early Career Physicians (defined as within 16 years of completing medical school). Your membership gives you access to career counseling, networking, education, advocacy and communication resources to assist you with your career in Internal Medicine.
---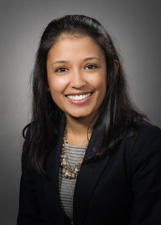 Message from NYACP's Early Career Physician Task Force Chair:
Ankita Sagar, MD, FACP
It is such a pleasure to welcome you to the Early Career Physician Task Force. The Early Career Physician (ECP) Task Force is composed of physicians who have completed graduate medical training and are practicing physicians in Internal Medicine and its subspecialties. We are a group of Internal Medicine Physicians who are dedicated to enhance the professional development and quality of life for young physicians, fostering their involvement in the American College of Physician, and providing resources and support as they pursue a career in Internal Medicine. In the past, the ECP Task Force has played a significant role in advocating on behalf of young physicians. Looking forward, we hope stay true to the tripartite mission of advocating for sound public health policies, supporting improvements in patient safety & quality, and championing physician wellness. We look forward to the coming future, and hope that you will join us by becoming an active member of the Early Career Physician Task Force.
---
Recorded Webinars!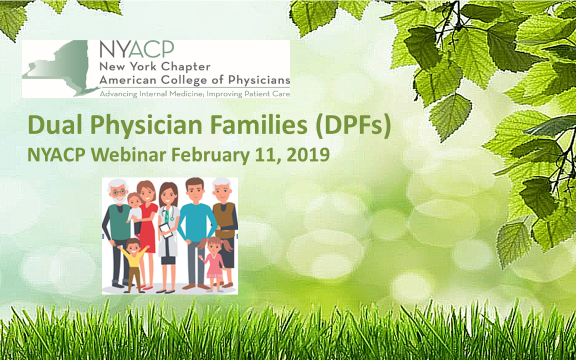 Dual Physician Families
Presented By:
Shikha Jain is Physician Director of Media Relations, Assistant Professor, Dept. of Internal Medicine, Division of Hematology, Oncology and Cell Therapy, Rush University Cancer Center- Mother of 3, Dual Physician Family
Dr. Marc Braunstein is Attending , Division of Hematology/Oncology, NYU Winthrop Hospital, NYU Long Island School of Medicine
Member, NYACP Early Career Task Force-Father of 2, Dual Physician Family
---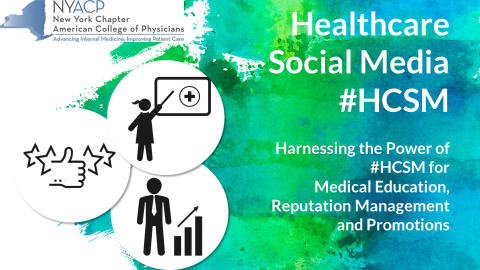 Healthcare Social Media: Harnessing the Power of #HCSM for Medical Education, Reputation Management and Promotion
Presented on Monday, January 21, 2019
Presented by: Viren Kaul, MD, Clinical Fellow Pulmonary and Critical Care Medicine
Icahn School of Medicine at Mount Sinai/Elmhurst Hospital Center
Ankita Sagar, MD, FACP, Attending Physician, General Internal Medicine, Assistant Professor of Medicine
Zucker School of Medicine -Hofstra Northwell
Niket Sonpal, MD, FACP, Attending Physician, Gastroenterology, APD Brookdale University Hospital Medical Center
---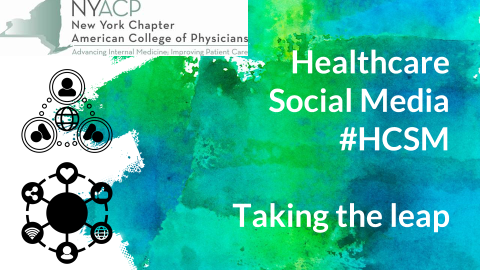 Healthcare Social Media #HCSM
Presented on Monday, November 12, 2018
Presented by: Facilitator: Viren Kaul, MD, Clinical Fellow Pulmonary and Critical Care Medicine
Icahn School of Medicine at Mount Sinai/Elmhurst Hospital Center
---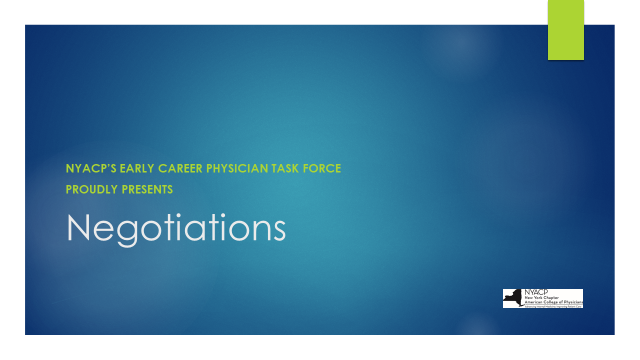 Negotiations as a Process - Pathway to Achieving Positive Results
Friday, October 12, 2018

Panelists to Include:
Lynn Cleary, MD, FACP - Professor and VP of Academic Affairs, Upstate Medical University
Nicole Adler, MD, FACP- Hospitalist and Asst. Professor, NYU Langone Health
Chris Elsayad, MD, FACP - Clinical Professor, Co-Clerkship Director, Nassau University Medical Center

Moderator:
Ankita Sagar, MD,MPH,FACP - Primary Care Physician and Director of Ambulatory Quality, Medicine Service Line, Northwell Health

This panel will guide you to:
-Understand the fundamentals of negotiations
-Recognize the cultural influences in negotiation
-Apply an array of strategies and techniques to increase their effectiveness when negotiating

---
The Legalities of an Employment Contract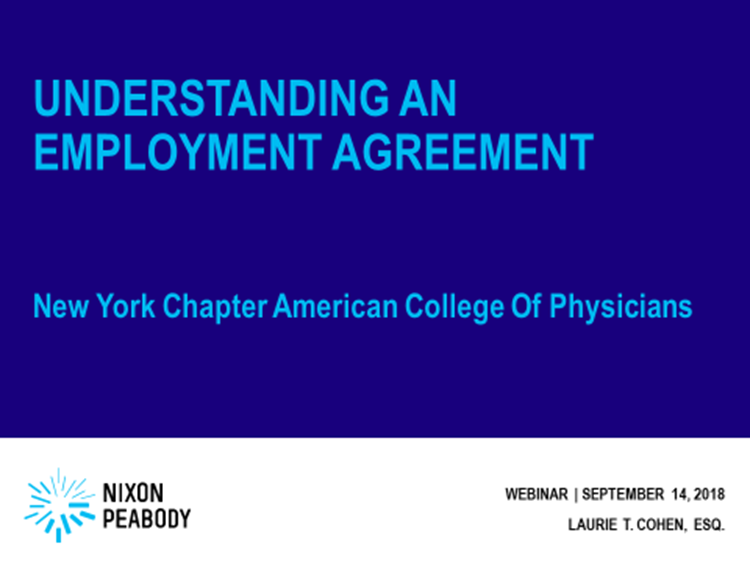 Friday, September 14, 2018
12:00 - 1:00 pm
Speaker: Laurie Cohen, Esq., Nixon Peabody LLP
View Webinar
Powerpoint presentation slides
Employment Agreement Terms- Defines the relationship between you and your employer
Due Diligence - What do you know about the employer?

What will be expected of you
Hospital Privileges
Health Plan Credentialing

Malpractice Insurance

Know the difference between "Claims made" or "Occurrence" insurance policies
Tail Coverage- why it is important

Term and Termination (sample term provisions)
Covenants Not to Compete
Compensation – Value Based Payment Arrangements
Medical record requirements
---
Early Career Physician Members Opportunities:

ACP's Guided Fellowship Program: The ACP Guided Fellowship Program provides early career physicians with guidance toward attaining ACP Fellowship within three years.

All information can be found here: ACP Guided Fellowship Program

If you are interested in participating on the NYACP Early Career Physicians Task Force, please contact Karen Tucker LaBello at klabello@nyacp.org
---
Message from ACP's Early Career Council:
The ACP Leadership Academy provides members with training and resources to prepare you for leadership roles in your organization and in the greater healthcare environment.
Formal Leadership Training
In partnership the American Association for Physician Leadership, ACP offers live meetings, faculty-led online courses, and self-study modules to help fill gaps in your leadership knowledge and to build your CV - all while earning CME.
ACP members receive the American Association for Physician Leadership member rate on all courses plus an additional 15% on selected courses.
Earn ACP Certificates of Completion for each course you finish.
Courses count toward becoming a Certified Physician Executive (CPE) or toward a master's degree program in medical management from one of four prestigious universities.
Learn more
about all of the available courses offered through the ACP Leadership Academy.

Certificate in Physician Leadership
for Hospital Medicine
The ACP Leadership Academy is pleased to announce the new Certificate in Physician Leadership for Hospital Medicine program, jointly offered by the American College of Physicians and the American Association for Physician Leadership. Learn more

Are you a physician just beginning your job search? Check out the new NYACP Career Link Job Posting page!

Practice Management Toolkit

ACP's Early Career Physician Website
What is an Early Career Physician?
An Early Career Physician is defined as a physician member of ACP who is within sixteen (16) years of medical school graduation and who is not a medical student or associate member of ACP.
Updated 1.31.19
Home