Chapter Advocacy in Action



NYACP's Advocacy Week: May 3-7, 2021
Day 1: Monday, May 3, 2021
NYACP's Advocacy Training Webinar 101
5:30-6:30 PM
Are you interested in advocating for your patients and on behalf of your profession? Don't know how or where to start? Let NYACP share their experience and provide you with some of the basics. Would you like to:
Effectively communicate with your local legislators on important healthcare topics and urgent medical issues?

Begin building personal working relationships with your local legislators?

Share your medical expertise and provide constructive feedback on proposed or pending legislation before it becomes law?
Target Audience: All NYACP Members (medical students, residents, early career physicians, mid-career physicians and advance career physicians).
Day 2: Tuesday, May 4, 2021
Advocacy Intern Podcast Release
Listen to NYACP's Advocacy Interns to learn about their experiences advocating for physicians in Albany during the 2021 Legislative Session.
Day 3: Wednesday, May 5, 2021
Advocacy Call to Action through NYACP's Online Grassroots Advocacy Center
Help lay the groundwork for NYACP's Advocacy Day by sending pre-populated email communications to NY State Assembly Members and Senators. On Wednesday morning you will receive an email with links to click and send letters to your representatives in Albany alerting them to pending issues that impact Internists in NY. This will help raise the profile of NYACP's policy issues in the offices of Legislators in advance of members meetings scheduled for the following day.
Day 4: Thursday, May 6, 2021
Advocacy Day with NYS Legislature
NYACP's Leadership will meet with key NY Legislators to advocate on behalf of all NYACP Members.
Day 5: Friday, May 7, 2021
Post Advocacy Day with NYS Legislature
Watch your Twitter, Instagram and Facebook accounts for follow-up and pictures about NYACP's Advocacy Day!
---
NYACP Held 1st Virtual Lobby Day on Telehealth – June 19, 2020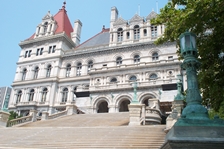 The 2020 NYS Legislative Session and NYACP's advocacy presence in Albany were far different than ever anticipated this year due to the unforeseen occurrence of the COVID-19 pandemic. NYACP's strong lobby efforts continued but often in an expeditious manner and/or with a pivoted focus.

NYACP's first Annual Advocacy Week, originally scheduled for May 4-8, 2020, was quickly transformed into the Chapter's 1st Virtual Lobby Day. This event, held on Friday, June 19, 2020, was a product of collaboration between NYACP's Health and Public Policy (HPP), Health Information Technology (HIT) and Quality & Patient Safety (QPS) Committees and with "telehealth" as the topic of advocacy activity. The day began with a Membership Call to Action, an early morning briefing session, personal calls to local NYS Assembly and Senate Representatives throughout the day, and virtual appointments with two key legislative leaders.

As seen over the past 3-4 months, the expanded use of telehealth became one strategy that emerged as being vitally important to enhancing healthcare delivery. To support the expansion of telehealth modalities, including payment parity, and seek assistance in maintaining authority for telehealth applications following the current pandemic, this issue became a legislative priority for the Chapter.

Lobby Day on June 19th was a huge success! Many thanks to all the members who responded to the Chapter's Call to Action by sending letters to their local NYS elected officials, to the Chairs and Members of the NYACP's HPP, HIT and QPS Committees for their collaborative expertise and leadership, and to Senator Gustavo Rivera (Chair, NYS Senate Health Committee) and Assemblyman Richard Gottfried (Chair, NYS Assembly Health Committee) who listened to the Chapter's message and personal physician stories and expressed interest in legislatively pursuing this telehealth expansion journey with us!
---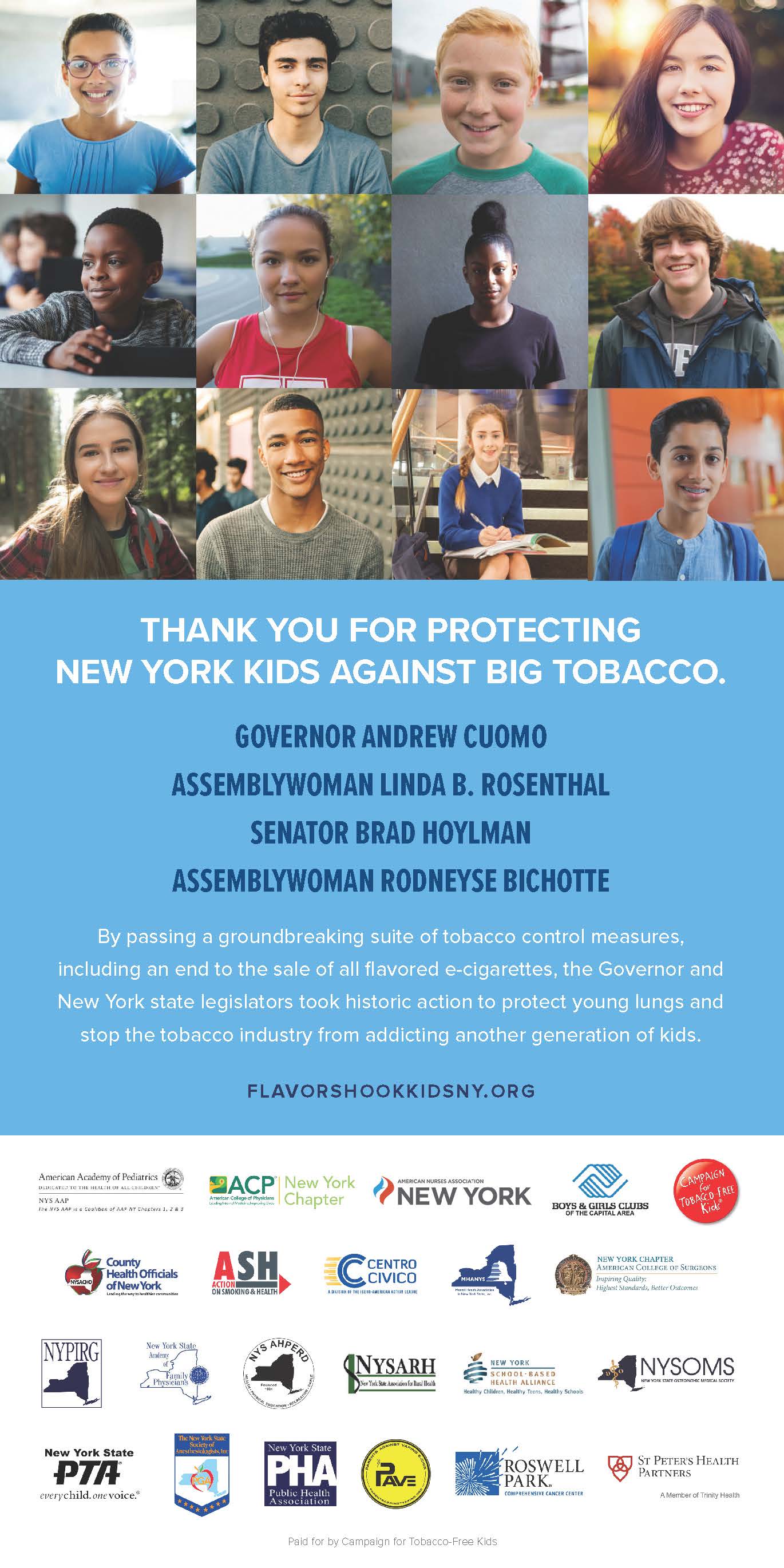 ---
On Friday, April 3, Governor Cuomo signed into law, a new Article 30-D of the Public Health Law called the "Emergency or Disaster Treatment Protection Act" that extends immunity from civil and criminal liability to all physicians providing health care services during the COVID-19 emergency. Additional provision details will be posted for review.

NYACP's March 25th letter to Governor Cuomo urged this action, and we are grateful for Governor Cuomo's leadership on this critically important issue.
---
---
DANY Application Deadline Extended Until June 4, 2020
Due to the COVID-19 epidemic in NYS and the response required by physicians, the deadline for the Doctors Across New York (DANY) Loan Repayment and Physician Practice Support Program Cycle VII has been extended. The new deadline for all applications is 4:00pm on Thursday, June 4, 2020.
The DANY Program helps train and place primary care physicians and specialists in underserved communities to care for New York's diverse populations. All new awards require a 3-year service obligation in exchange for maximum funding in the amount of $120,000.
For more information, visit the NYS Department of Health website.
---
2020 NYS Budget Proposals

On Tuesday, January 21st Governor Cuomo released the NYS Budget for FY 2021, which begins
April 1, 2020. The proposed Budget has a number of provisions relevant physicians:
No cuts to Medicaid funding, instead convening a Medicaid Redesign Team to find ways to reduce the growth in Medicaid costs to help combat the $6 billion state budget deficit
Restrictions on e-cigarettes, including a ban on all flavored e-liquids and menthol
Legalization of adult use recreational cannabis
Increased government authority to investigate rising prescription drug prices
Budget Book Highlights
Comprehensive tobacco control policy

Ban the sale or distribution of e-cigarettes with flavor
Ban the sale of cigarettes/e-cigarettes in all pharmacies
Limit e-cigarette ads targeting youth

Restrict claims about safety and efficacy of vaping as smoking cessation

Limit sale of e-liquids to NYS licensed vapor retailers
Vape manufacturers must disclose to the DOH commission and the public, the ingredients, byproducts and contaminants in vapor products
Ban certain carrier oils
Increased penalties for selling to minors
Estimated annual cost of 9.7 billion (including 2.7 billion to Medicaid) for nicotine and tobacco related illnesses and responsible for 22,000 premature deaths in NY

Cannabis regulation and taxation act

Tax cultivation of cannabis
Tax the sale of cannabis at 20%
2% tax on sales to dispensaries
Create an office of cannabis management to regulate medical, industrial and adult-use cannabis

Medicaid

Local cap: has saved counties $20 billion, including $4 billion in SFY 2020 alone
MLTCs accounted for 33% of state share Medicaid spending

MLTC spending grew 301% from 2013 to 2019
Largely driven by Consumer Directed Personal Assistance Program which diverts members from high cost nursing home and institutional setting to less costly in home care

Major spending supporting minimum wage workers within the health care sector

44 million to 1.8 billion over ?years

160% increase in state support for distressed hospitals since 2016
Reforming Medicaid

MRT II

Must report back by April 1 to enact a budget plan to deliver 2.5 billion in recurring savings
Plan cannot rely on local governments as funding sources
Cannot have an impact on beneficiaries
Must find solutions through industry efficiencies and rooting out waste, fraud and abuse

Enhanced local district Medicaid controls

State will continue to assume costs for counties if they adhere to the 2% property tax cap and limit growth in Medicaid expenditures to 3%

Integrity and efficiency

Office of Medicaid inspector general will add 69 staff

Transforming Medicaid

Performing Provider System will continue to build on value based payment arrangements

Promoting the essential plan

Generated 1.5 billion in savings by transitioning certain individuals from state-only Medicaid benefits to federally funded coverage
Cap financing for essential health care providers (3.8 billion)

Continued support for the NYS exchange
Continued support for the life science laboratory public health imitative (750 million)
Continued AIDS/HIV funding

Prescription drugs

$100 cap on insulin co-payments
DFS empowered to investigate and hold manufacturers accountable for unjust price increases
Pharmacy benefit managers (middle men between insurers and pharmacies)

Do not disclose to pharmacies or insurers how much they're keeping
Budget requires PBMs to register with the DFS and disclose financial incentives they received for promoting specific drugs or other arrangements

Water safety

Evaluate using NYC's water supply to provide Nassau with additional source of drinking water

"NYHealthCareCompare" website to lookup cost of care and access to financial assistance programs
Expand access to medication assisted treatment for opioid use disorder
Mental Health funding
Gun control

Removing guns from domestic abusers and disqualify individuals from gun ownership for out of state crimes
Sharing flags from mental health professionals in other states to determine gun ownership eligibility

Other

"discontinue hospital resident compliance audits"
"pharmacy adult immunization expansion and collaborative drug therapy management"
"physician profile enhancements"
"enhancing physician integrity and accountability"
Banning fentanyl analogs
Antimicrobial resistance preventions
---
Press Conference Urging Ban on All Flavored Tobacco Product

On January 13, 2020, ACP Advocacy Interns Dr. Austin Schnitzer and Dr. Maaz Shiekh attended a press conference organized by Flavors Hook Kids NY campaign to announce bills banning all flavored tobacco products. Proposed bills S.428-B/A.47-A would ban the sale of flavored e-cigarettes and S.6809/A.8808 would ban flavored combustible and smokeless tobacco, including menthol cigarettes.

The NYACP strongly supports the efforts by the New York Legislature to stop the growing trend of youth vaping through increased regulation
of e-cigarettes.
---
2020 New York State of the State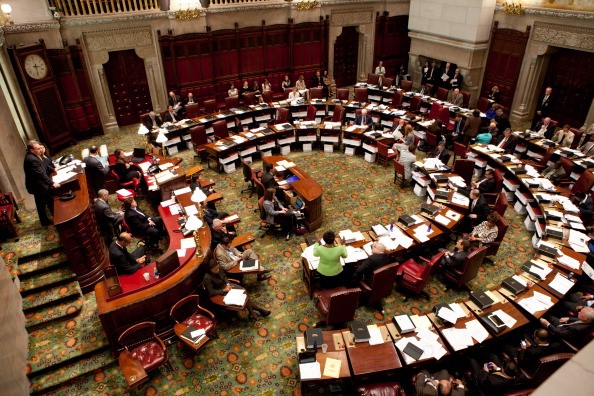 On January 8, 2020, Governor Cuomo announced a number of new healthcare initiatives during his State
of the State address, including plans to target rising healthcare costs, tackle the ongoing opioid epidemic, and reduce rising youth e-cigarette use. The governor unveiled a multi-point plan to reduce healthcare costs, focusing on increasing price transparency and combating prescription drug prices:


A cap on insulin co-payments at $100 per month
Granting additional authority for the state to investigate pharmaceutical companies who raise prescription drug prices
Creating a website for the public to compare the health care cost and quality information
Additional limits on out-of-network billing for emergency services and disclosure of facility fees to patients
A number of new laws targeting tobacco and e-cigarettes were also announced:
A ban on the sale of all flavored nicotine products and a ban on e-cigarette ads targeting youth
Ending the sale of tobacco and e-cigarettes at pharmacies
Restricting online, mail, and phone purchasing of vaping products to prevent youth access
One proposal worthy of attention included in the supplemental State of the State Book is entitled "Enhancing Physician Integrity and Accountability." It includes a number of action points, including a few listed below:
Periodic renewal requirements for providers to maintain their NYS license with the stated goal of targeting "out-of-state bad actors who are licensed, but do not actually practice in New York"
Strengthened disciplinary oversight of licensed providers
Ensuring public access to up-to-date information on NYS licensed physicians, including on professional conduct