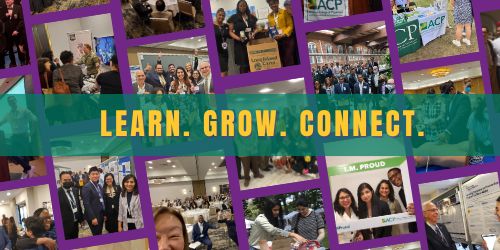 NYACP is proud to provide high quality, industry specific educational programs in multiple formats that cover a variety of topics. Physicians, residents, fellows-in-training and medical students can find opportunities to learn about clinical topics, professional development, and leadership in addition to meeting colleagues from around the state. Some programs also provide CME credits and MOC points.
Activities and Education for Members and Non-Members
Use the sidebar menu to navigate the Chapter's marquee events and monthly offerings, including:
Pain Management Online Training Course: Offered in collaboration with the Boston University School of Medicine, this 3-hour online course fulfills NY's mandated 3-hours of CME training in addiction and pain management for prescribers as required by NY Public Health Law Sec. 3309-A(3) and contributes to fulfilling the 8 hour DEA renewal requirement.

Annual Scientific Meeting: This showcase event attracts over 350 physicians, residents, fellows-in-training and medical students for a day of learning and networking. Resident and Medical Student members proudly present their posters for the opportunity compete in the national ACP Competition.

District Meetings:

These are local events that offer networking and/or sometimes clinical topics. It's a great way to learn clinical pearls and make connections with like-minded professionals. Not a member? Come to an event to learn what ACP and NYACP have to offer!

Virtual Events: Learn and network from anywhere! NYACP offers a variety of virtual events throughout the year on clinical topics, professional development, well being, narrative medicine, and more. Many of these events are recorded and accessible by members in Chapter Resources, allowing for a flexible learning schedule.

Co-Sponsored Events: These are virtual and in-person events provided jointly by NYACP with industry partners.
---
Resident and Medical Student Activities
In addition to the monthly events and district meetings, the following opportunities are offered exclusively for Residents and Medical Students.
Poster Competition: This annual competition is the perfect opportunity to showcase work and add a scholarly activity to your CV! Abstracts are submitted online in 4 categories for the first round of judging. Those with the highest scores are invited to present at the Annual Scientific Meeting Poster Competition. Winners earn the opportunity to present at the national ACP competition.

Dr's Dilemma Competition: Residency programs from across New York State sign up to send teams to compete in this Jeopardy-style event. It's a fan favorite and the winning team represents NYACP at the National ACP competition!
---
Sponsorship
District Events:

The Chapter has many opportunities for sponsoring events. Please contact Izaiah Wright at iwright@nyacp.org for more information.

Annual Scientific Meeting: The premier Internal Medicine conference in New York State attended by hundreds of Physicians, Residents/Fellows-in-Training and Medical Students. Visit the Exhibitor information page to learn more.
---
Home




Last Updated 7.27.23