NYACP represents over 2,000 medical students in New York. Together, we can help you define the right career path, participate in educational and CV building activities, connect with mentors and peers, learn the advocacy process and keep you up to date with social media and communications. Use this page to access resources that will guide you from MS1 through the Match!
Student Mem

bership is FREE!

NYACP and ACP Medical Student Resources
---
NYACP's 2023/24 Medical Student Council/Board Representative
A Medical Student Council/Board Representative is appointed every April, attends 3 Council/Board meetings, is a leader of the medical student committee and, most importantly, contributes with voice and the medical student perspective. Learn more about the role. Contact the NYACP Medical Student Staff Liaison, Amanda Allen.

Suvruta Iruvanti
Ichan School of Medicine at Mt. Sinai, '24
Suvruta is a rising MS4 at the Icahn School of Medicine at Mount Sinai. He grew up in Dutchess County, NY, and attended Arlington High School in LaGrangeville, NY. He went on to attend the University of California at Berkeley, where he received a BA in Molecular and Cell Biology and a BS in Business Administration. After college, he worked in research at the Broad Institute of MIT and Harvard.
In medical school, Suvruta has been a leader of Mount Sinai's student-run free clinic, the East Harlem Health Outreach Partnership. Suvruta has been a member of the NYACP Medical Student Committee since his first year of medical school. While on the committee, Suvruta created COVID vaccine advocacy videos in multiple languages along with fellow committee members to help promote increased vaccination rates among the public.
Suvruta is excited to be serving as the NYACP Medical Student Council Board Representative for this year, and is looking forward to continuing to promote education, mentorship and advocacy among fellow medical students in New York and nationally.
NYACP Medical Student Committee Members 2023/24
Albany Medical College
Chloe Krugel
Albert Einstein College of Medicine
Eva Spier
American University of the Caribbean School of Medicine
Rachel Daniel
Columbia University Vagelos College of Physicians and Surgeons
J. Alex Gibbons
Sophie Ulene
CUNY School of Medicine
Yaathika Challapalli
Rachelle Monteau
Ichan School of Medicine at Mt. Sinai
Suvruta Iruvanti
Vladislav Izda
Devarshi Vasa
American University of Antigua College of Medicine
Alaa Baqer
Radhika Sharma
Jacobs School of Medicine and Biomedical Sciences
Zach Weinstock
Anna Stokolosa
John Etter
NYIT College of Osteopathic Medicine
Jyoti Bhattarai
New York Medical College
NYU Grossman School of Medicine
Christopher Nmai
NYU Long Island School of Medicine
Amanda Greco
Sabrina Daoui
Renaissance School of Medicine at Stony Brook University
Samuel Soff
SUNY Downstate Health Sciences University
Salvatore Volpe
SUNY Upstate Medical University
Rohan Gupta
Madhav Bhatt
Touro College of Osteopathic Medicine
Shayna Zanker
Daniel Hahn
University of Rochester School of Medicine and Dentistry
Aaron Litvak
Jason Nagourney
Syd Park
Weill Cornell Medical School
David Li
Zucker School of Medicine
Kristen John
Bhakti Patel
NYACP Abstract Competitions
NYACP sponsors local abstract competitions in the fall and spring that offer medical students an opportunity to compete with peers from across New York State. Collaborate with your program director, discuss research or clinical experiences and formally write an abstract for professional review. (How to Prepare GREAT Abstract and Poster Presentations) Add your submission to your CV as a scholarly activity!
Winners from each division receive an expense paid trip to the present their poster at the ACP National IM Meeting!
Next Competition:
NYACP Annual Scientific Meeting
Saturday, October 28, 2023
Hyatt Regency Hotel
125 East Main Street
Rochester, NY 14604
Click here for abstract submission information.
Spring 2023 Competition Results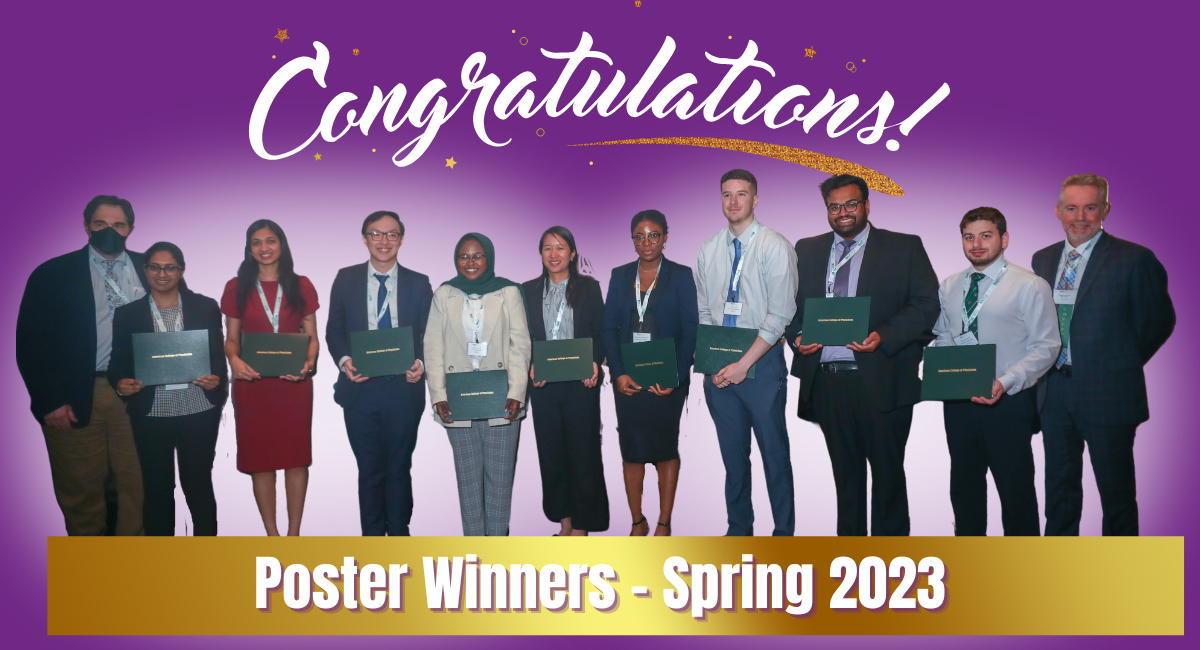 Click here for Resident/Fellow Poster Winners
Video and Photo Album from May 12, 2023 Competition
Medical Student Clinical Vignette
1st
Ryan Ruia - SUNY Upstate
Medical Student Research
1st
Shreya Srivastava - Albany Medical College
Resident/Fellow, Medical Student Quality, Patient Safety and Advocacy
1st
Catherine Meyer - Albany Medical College
2nd
Gunjan Umarji - Montefiore Medical Center
ACP Resources
---
Home



Last Updated 5.19.23