NYACP/MedQuest Board Review Question of the Week
Check Your Answers for March!
If you are interested in receiving these questions weekly, join us as a member!
If you are a member in need of assistance locating the questions/answers, let us know!
March 31, 2020
Question Recap: A 40-year-old, obese African American woman is found to have developed a severe, uniform, erythematous, desquamatous rash, fever, increased liver function tests, and eosinophilia. The patient looks toxic. The patient has a past medical history of renal insufficiency secondary to poorly controlled hypertension, migraine headaches, gout, and systemic lupus erythematous. The patient is on a number of medications to treat her various illnesses.
Which of the following medications is the most likely cause of these symptoms?
Responses Received from Members (528 Total):
A. Allopurinol (73%)
B. Prednisone (4%)
C. Amlodipine (2%)
D. Sumatriptan (6%)
E. Colchicine (15%)
Correct Response is: A. Allopurinol
Question Explanation: The correct answer is A. Allopurinol is a xanthine-oxidase inhibitor and is the drug of choice to prevent attacks of gout if the patient has a history of renal stones or renal insufficiency. However, the adverse effects of allopurinol are more severe than those of other drugs and can include a severe toxicity syndrome, including eosinophilia, hepatitis, decreased renal function, an erythematous desquamative rash, and occasionally a vasculitis. This most commonly occurs in patients with a pre-existing renal dysfunction. When starting any antihyperuricemic agent, it is always important to inform the patient that an acute attack of gout may be precipitated due to a rapid change in the uric acid concentration.
Hershfield MS, Callaghan JT, Tassaneeyakul W, Mushiroda T, Thorn CF, Klein TE, Lee MT. Clinical Pharmacogenetics Implementation Consortium guidelines for human leukocyte antigen-B genotype and allopurinol dosing. Clin Pharmacol Ther. 2013 Feb;93(2):153-8. doi: 10.1038/clpt.2012.209. Epub 2012 Oct 17. PubMed PMID:23232549; PubMed Central PMCID: PMC3564416.
---
March 24, 2020
Question Recap: A healthy 45-year-old woman walks into your office. She has no symptoms. Her parents are alive and healthy at the age of 70 with only some osteoarthritis. She is here for routine pre-employment screening for a new position in ambulatory medicine at your hospital.She uses no medications and has no history of substance abuse. Two siblings are alive and healthy. Which of the following is recommended most clearly in this patient?
What is your next step in the management of this patient?
Responses Received from Members (613 Total):
A. DEXA bone densitometry (11%)
B. BRCA testing (2%)
C. HIV testing (58%)
D. Colonoscopy (11%)
E. Pneumococcal vaccination (18%)
Correct Response is: C. HIV testing
Question Explanation: The correct answer is C. All adults and adolescents age 15 to 65 should be screened for HIV regardless of risk factors. If you test only according to risk factors such as injection drug use or sexual promiscuity you will miss 20-25% of patients with HIV. There is no longer a need for additional written informed consent for HIV testing. Oral consent as you would obtain for hepatitis or syphilis testing is sufficient. You may consider HIV testing as "opt-out". This means that you are going to routinely test everyone from age 15-65 unless they choose to "opt-out" of testing. Pneumococcal vaccination begins at age 65 in the general healthy population. BRCA testing is used in those with a strong family history of breast cancer such as two first degree relatives with breast cancer. The utility of BRCA is not entirely precise. It is not clear what management to offer if the test is positive. DEXA bone densitometry is routine at age 65 in women.
Moyer VA; U.S. Preventive Services Task Force*. Screening for HIV: U.S. Preventive Services Task Force Recommendation Statement. Ann Intern Med. 2013 Jul 2;159(1):51-60. doi: 10.7326/0003-4819-159-1-201307020-00645. PubMed PMID: 23698354
---
March 18, 2020
Question Recap: A 43-year-old man comes to the office seeking medical advice. His father was diagnosed with gout at the age of 45 and now needs hemodialysis. His older brother is 50 years old and was diagnosed with gouty arthritis last year. He had two episodes of great toe pain in the past. The patient's past medical history is significant for hypertension, which is managed with atenolol. On physical examination, the patient is slightly obese. There are no obvious joint deformities. His range of motion is not restricted. The only significant finding on physical examination is some nodularity on palpation of the Achilles tendon on the left. His serum uric acid is 18 mg/dL (normal 2.5–7.5 mg/dL), and his urine uric acid is 850 mg/24 h (normal <800 mg/24 h on a regular diet). Treatment with allopurinol is started. In two weeks, the patient returns complaining of a diffuse erythematous rash and itching.
What is your next step in the management of this patient?
Responses Received from Members (442 Total):
A. Switch to febuxostat (62%)
B. Start prednisone (23%)
C. Desensitization to allopurinol (6%)
D. Repeat the uric acid level in one month (1%)
E. Give colchicine if an attack develops (8%)
Correct Response is: A. Switch to febuxostat
Question Explanation: The correct answer is A. Febuxostat is a xanthine oxidase inhibitor, as is allopurinol. It is used in those who have an intolerance to allopurinol, as identified by the rash described here, or in those whose disease is not sufficiently controlled with allopurinol. Switch treatment to febuxostat; do not add it. Asymptomatic hyperuricemia is frequently seen in family members of patients with gout. Only 20% of hyperuricemic individuals will ever develop gout, so it is reasonable to start treatment only when attacks occur. Since this patient has a strong family history of tophaceous diseases or gout and renal problems, treatment with allopurinol should be started before articular or renal problems develop. In this patient, the treatment was started, but the course was complicated by a mild hypersensitivity reaction. Desensitization to allopurinol is indicated in mild allergic reactions, such as urticaria, but it would be considered dangerous in more severe hypersensitivity reactions, such as anaphylaxis. In this case, continuation of treatment with allopurinol is suggested based on the strong family history of gout with renal failure and painless deposits along the Achilles tendon, which could be the first manifestation of tophaceous disease. An increased urinary uric acid excretion is suggestive of a predisposition toward the development of renal stones.
Khanna D, Fitzgerald JD, Khanna PP, et al; American College of Rheumatology. 2012 American College of Rheumatology guidelines for management of gout. Part 1: systematic nonpharmacologic and pharmacologic therapeutic approaches to hyperuricemia. Arthritis Care Res (Hoboken). 2012;64(10):1431-1446. [PubMed 23024028]
---
March 10, 2020
Question Recap: A 41-year-old woman with a history of rheumatoid arthritis comes to your office for medical optimization before elective plastic surgery. What is the next step in the management of this patient?
Responses Received from Members (669 Total):
A. Pulmonary function testing (10%)
B. Head CT (1%)
C. Nuclear stress test (1%)
D. Cervical spine x-ray (60%)
E. Check CBC and ESR (28%)
Correct Response is: D. Cervical spine x-ray
Question Explanation:
The correct answer is D. Before sending a patient with rheumatoid arthritis for elective surgery involving general anesthesia, it is important to confirm stability of the cervical spine. Intubation may cause spinal cord trauma or cord compression. Neurological damage ranging from pain to complete four-limb paralysis may occur. Drop attacks and signs of cranial nerve involvement are also possible.
Neva MH, Häkkinen A, Mäkinen H, Hannonen P, Kauppi M, Sokka T. High prevalence of asymptomatic cervical spine subluxation in patients with rheumatoid arthritis waiting for orthopaedic surgery. Ann Rheum Dis. 2006 Jul;65(7):884-8. Epub 2005 Nov 3. PubMed PMID: 16269427; PubMed Central PMCID: PMC1798218.
---
March 3, 2020
Question Recap: A 52-year-old woman presents with several weeks of swelling of both hands and ankles. She has stiffness in the morning that subsides during the day. She has also experienced generalized weakness, cough, and intermittent low-grade fevers. She has not had a skin rash or dryness of the eyes. Examination reveals symmetrical swelling and warmth of the wrists, knees, and proximal interphalangeal and metacarpophalangeal joints of the hands. There are small subcutaneous nodules palpated over the tendons of her fingers and elbows. A faint pericardial rub is auscultated. Initial laboratory tests reveal: white cell count 11,200/mm3, hematocrit 32%, mean corpuscular volume 92 mm3, platelets 660,000/mm3, creatinine 1.2 mg/dL, and glucose 150 mg/dL.
What should be the first diagnostic test performed?


Responses Received from Members (533 Total):
A. Echocardiogram (21%)
B. Antinuclear antibody (14%)
C. Rheumatoid factor and sedimentation rate (53%)
D. X-rays of hands, wrists, and ankles (9%)
E. Examine the synovial fluid (3%)
Correct Response is: A. Echocardiogram
Question Explanation:
The correct answer is A. All of these tests should be obtained in this patient. The echocardiogram should be performed first due to the presence of the pericardial friction rub. This question requires you to recognize one of the only life-threatening manifestations of rheumatoid arthritis. Clinical pericarditis is rare in rheumatoid arthritis, but this patient appears to have it. Pericardial involvement is found in 40% of patients with rheumatoid arthritis at autopsy. This patient presents with clinical manifestations of rheumatoid arthritis, such as morning stiffness which subsides during the course of the day, symmetric joint swelling with associated stiffness, and tenderness and warmth of joints of the hands. Rheumatoid nodules are present and have a high degree of specificity for rheumatoid arthritis. These occur in only 30% of patients and tend to occur later in the course of the disease. She also presents with fever and weight loss. During both acute and chronic phases, the erythrocyte sedimentation rate and rheumatoid factor are elevated. Moderate normochromic, normocytic anemia is common. Thrombocytosis occurs as a result of overall inflammation. X-ray changes are specific for rheumatoid arthritis but are not sensitive since only 15 to 30% of patients show evidence of disease on X-ray in the first year after diagnosis. Radiographic changes occur when there is advanced disease that erodes through the cortex of the bone. Magnetic resonance imaging may detect bone erosions earlier in the course of the disease. Abnormalities also occur in the cervical spine with C1- C2 subluxation, but these changes take years to occur. Rheumatoid factor IgM is present in more than 75% of patients. High titers of rheumatoid factors are usually associated with severe rheumatoid disease. They may also be elevated in syphilis, sarcoidosis, endocarditis, tuberculosis, leprosy, parasitic infections, and old age. Antinuclear antibodies are seen in 30 to 40% of patients. Their titers are lower in rheumatoid arthritis than they are in systemic lupus erythematosus. Examination of the joint fluid typically reveals leukocytosis with neutrophils and low glucose and complement levels.
Guedes C, Bianchi-Fior P, Cormier B, Barthelemy B, Rat AC, Boissier MC.Cardiac manifestations of rheumatoid arthritis: a case-control transesophageal echocardiography study in 30 patients. Arthritis Rheum. 2001 Apr;45(2):129-35. PubMed PMID: 11324775.
________________________________________________________________
Eliminate surprises on test day. MedQuest's mission is to help you relax on test day by providing resources t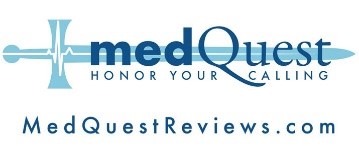 hat prepare you to pass the boards and practice exceptional quality medicine to improve your patients' lives. Nobody likes surprises on test day. Trust MedQuest to prepare you for the ABIM exam with live and on-demand courses and question banks. https://medque.st/ACP