NYACP/MedQuest Board Review Question of the Week
Check Your Answers for February!
If you are interested in receiving these questions weekly, join us as a member!
If you are a member in need of assistance locating the questions/answers, let us know!
February 25, 2020
Question Recap: A 25-year-old woman with Crohn's disease presents to your office with recurrent abdominal pain and diarrhea. She has been taking mesalamine 4 grams per day for the last year. Last fall, after developing diarrhea and pain, she was placed on prednisone 60 mg daily. She had a complete remission, and after a three-month tapering of the prednisone she suffered a relapse. Prednisone was restarted two months ago at 60 mg daily; however, now that the dose has decreased to 20 g per day, the diarrhea has recurred. She is having six to eight water stools per day, crampy pain, and some weight loss.

What would be the best next step in the management of this patient?
Responses Received from Members (459 Total):
A. Restart the prednisone and plan to maintain the dose at 40–60 mg indefinitely
B. Restart the prednisone with 6-mercaptopurine and plan on prednisone taper in two months
C. Admit to the hospital and give high-dose intravenous steroids to induce remission
D. Stop the mesalamine and add methotrexate
E. Stop the prednisone and add cyclosporine
Correct Response is: B. Restart the prednisone with 6-mercaptopurine and plan on prednisone taper in two months
Question Explanation:
Prednisone is effective in treating active Crohn's disease for short durations (three to six months). Long-term use for maintenance is not indicated. 6-Mercaptopurine and azathioprine are steroid-sparing medications used to limit the need for prednisone. Prednisone, like other corticosteroids, has numerous side effects and should be used only for treating active flares of disease, not maintenance of remission. Cyclosporine and methotrexate have limited roles in the management of Crohn's disease. The next step from here would be to consider biologic therapy.
​​​​​​​Lichtenstein GR, Loftus EV, Isaacs KL, Regueiro MD, Gerson LB, Sands BE. ACG Clinical Guideline: Management of Crohn's Disease in Adults. Am J Gastroenterol. 2018 Apr;113(4):481-517. doi: 10.1038/ajg.2018.27. Epub 2018 Mar 27. Erratum in: Am J Gastroenterol. 2018 Jul;113(7):1101. PubMed PMID: 29610508.
February 18, 2020
Question Recap:
A 38-year-old nurse with no significant medical history presents to your office for a routine visit. She has occasional muscle aches. She is currently on birth control pills. Vital signs are: temperature 98.5 F, heart rate 68/min, respirations 14/min, and blood pressure 145/75 mmHg. Examination of head, eyes, ears, nose, and throat is nonicteric. Her abdomen is soft and nontender but shows hepatomegaly.
Laboratory studies show: WBC 9,000/mm3, Hemoglobin 13.7 g/dL, Hematocrit 40%, Platelets 240,000/mm3, Sodium 138 mEq/L, Potassium 4.3 mEq/L, BUN 12 mg/dL, Creatinine 0.9 mg/dL, Albumin 3.9 g/dL, Total bilirubin 0.7 mg/dL, Direct bilirubin 0.3 mg/dL, AST (SGOT) 180 U/L, ALT (SGPT) 112 U/L, and alkaline phosphatase 768 U/L. Further testing reveals that anti-HCV (ELISA) is negative, anti-hepatitis B surface antibody (HBs) is positive, hepatitis-B surface antigen is negative, ANA is 1:80, anti-mitochondrial antibody is 1:640, and serum gamma globulin is elevated. Liver biopsy reveals portal mononuclear-cell infiltrate that invades the hepatocyte boundary (limiting plate) surrounding the portal triad and permeates the surrounding lobule. There is minimal evidence of fibrosis.
What is the best treatment for this patient at this time?
Responses Received from Members (532 Total):
A. Recombinant interferon-a-2a (5%)
B. Ursodeoxycholic acid (32%)
C. Prednisone (46%)
D. Repeat liver function tests and liver biopsy in three months (11%)
E. Velpatasvir and sofosbuvir (4%)
F. Lamivudine (2%)

Correct Response is: B. Ursodeoxycholic acid
Question Explanation:
Primary biliary cholangitis (cirrhosis) is characterized by a progressive inflammatory process involving the portal tract, leading to progressive fibrosis and, ultimately, cirrhosis. Ninety-five percent of patients have a positive anti-mitochondrial antibody. Ursodeoxycholic acid will typically help normalize liver function tests and prevent progression to end­stage liver disease. If this does not help with reducing markers of disease activity such as ALT, AKLP, and CRP then obetacholic acid is used next.
Velpatasvir and sofosbuvir treat all the genotypes of hepatitis C. Lamivudine is one treatment for hepatitis B. Steroids do not help primary biliary cholangitis. Corpechot C, Abenavoli L, Rabahi N, Chrétien Y, Andréani T, Johanet C,Chazouillères O, Poupon R. Biochemical response to ursodeoxycholic acid and long-term prognosis in primary biliary cirrhosis. Hepatology. 2008 Sep;48(3):871-7. doi: 10.1002/hep.22428. PubMed PMID: 18752324.
February 11, 2020
Question Recap:
A 33-year-old woman presents with persistent heartburn. The heartburn began two months ago. Initially the H-2 blocker famotidine was effective. She has not attempted to lose weight, stop smoking, or quit drinking beer. Now, the heartburn has returned.
The best next step in managing this patient would be:
Responses Received from Members (735 Total):
A. Trial of omeprazole (74%)
B. 24 hour pH monitor (4%)
C. Barium swallow (2%)
D. Upper endoscopy (20%)
Correct Response is: A. Trial of omeprazole
Question Explanation:
Although an upper endoscopy would be the correct answer in a person over age 45, the risk of malignancy and Barrett's in this patient is low. A barium swallow has no role. A 24-hour pH monitor would be the correct answer to confirm that her symptoms are due to gastroesophageal reflux disease. However, a trial of a proton pump inhibitor, such as omeprazole, is more effective than H-2 blockers and is the more cost-effective approach. There is no reason to answer H-2 blockers as the best initial therapy on your board examination. Patients use them as an over-the-counter remedy, but H2 blockers will only be effective in two-thirds of patients, whereas PPIs will be effective in 90-95% of patients.
You should only perform an endoscopy immediately if there is dysphagia, weight loss, anemia or blood in the stool. Collectively these are known as "alarm" symptoms.
Hunt R. Acid suppression for reflux disease: "off-the-peg" or a tailored approach? Clin Gastroenterol Hepatol. 2012 Mar;10(3):210-3. doi: 10.1016/j.cgh.2011.11.018. Epub 2011 Dec 2. PubMed PMID: 22138274.
---
February 4, 2020
Question Recap:
Which of the following regarding NASH (nonalcoholic steatohepatitis) is TRUE?
Responses Received from Members (740 Total):
A. Diabetes mellitus is a common predisposing factor (70%)
B. Corticosteroids remain the mainstay of treatment (4%)
C. It is commonly seen in emaciated alcoholic patients (1%)
D. The biopsy findings are different from those seen in alcoholic liver disease (24%)
E. An ERCP will confirm the diagnosis (1%)
Correct Response is: A. Diabetes mellitus is a common predisposing factor
Question Explanation:
Non-alcoholic steatohepatitis (NASH) is commonly found in patients who are overweight, diabetic, or both. Often patients are not significantly overweight. Emaciated alcoholics rarely have NASH. Biopsies can be similar to alcoholic patients, including the presence of Mallory bodies. Treatment is weight loss and the control of blood sugar in diabetics. No pharmacologic treatment is available.
Fracanzani AL, Valenti L, Bugianesi E, Andreoletti M, Colli A, Vanni E, Bertelli C, Fatta E, Bignamini D, Marchesini G, Fargion S. Risk of severe liver disease in nonalcoholic fatty liver disease with normal aminotransferase levels: a role for insulin resistance and diabetes. Hepatology. 2008 Sep;48(3):792-8. doi: 10.1002/hep.22429. PubMed PMID: 18752331.
________________________________________________________________
Eliminate surprises on test day. MedQuest's mission is to help you relax on test day by providing resources t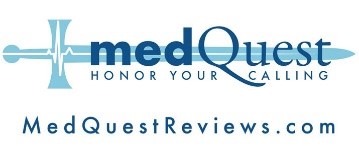 hat prepare you to pass the boards and practice exceptional quality medicine to improve your patients' lives. Nobody likes surprises on test day. Trust MedQuest to prepare you for the ABIM exam with live and on-demand courses and question banks. https://medque.st/ACP