ACP membership provides access to valuable clinical and professional resources, nationally respected publications, quality education, powerful advocacy, career management solutions, practice improvement, and networking within a community of over 12,000 members in New York and 159,000 members nationwide.
---
NYACP Member Benefits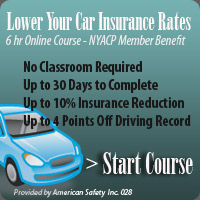 Laurie Cohen, Esq.
Your New York ACP membership is packed with value:
Professional and Educational Development
Advocacy and Public Health Promotion

Practice Management Resources
Medical Liability Mutual Insurance Company (MLMIC)
Legal Consultation

Personal Development & Community Involvement
Community Service and Community Teaching Opportunities

Communications
---

Valuable ACP Member Benefits

Learn Strategies to Help Combat the Opioid Epidemic with FREE Resources from ACP
New: ACP Practice Advisor® Opioid Risk Management Module*
This online tool can help your practice enhance patient care and office efficiency. The Opioid Risk Management module has resources to help mitigate risk and improve
outcomes for patients and medical practices. It includes tools to address the major components of the Blueprint for Prescriber Education for Extended Release and
Long-Acting Opioid (ER/LA) Analgesics.
On-Demand Webinars: Chronic Pain/Opioid Prescribing

Safer Opioid Prescribing (recorded August 2018)
Learn more about safer opioid prescribing–including agreements and monitoring for benefits and harms.

Managing Patients Not Benefiting From (or Being Harmed by) Opioids (recorded September 2018)
Experts in opioid management and weaning discuss how to assess patients on opioids for lack of benefit and implement a patient-centered opioid taper and treatment
plan with alternative therapies, as well as how to assess for and treat opioid use disorder.
These webinars are supported by Funding Opportunity 1L1CMS331476-03-00 from the U.S. Department of Health & Human Services, Centers for Medicare &
Medicaid Services. The contents provided are solely the responsibility of the presenters and do not necessarily represent the official views of HHS or any of its
agencies.
---



Practice Advisor Modules
Several new Practice Advisor modules have been released on a variety of topics:
Successful completion of Practice Advisor activities enables the participant to earn 20 CME and MOC Practice Assessment points.

This module and others are available now for ACP Practice Advisor® users at PracticeAdvisor.org/Modules.
If you are not an ACP Practice Advisor® user, register now at PracticeAdvisor.org.
---



Free Video: Pain and Mental Health Assessments
In this FREE video from ACP Quality Connect, learn why we should assess both pain and mental health. Then identify tools to assess pain, including the Brief Pain Inventory (BPI).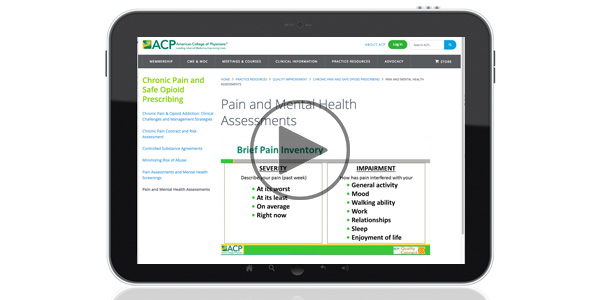 ---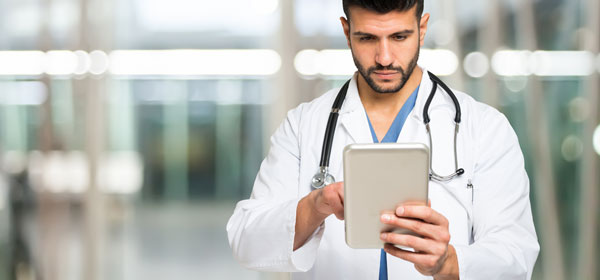 The Next-Generation Clinical Decision Support Resource
DynaMed Plus has been redesigned from the ground up for busy clinicians, focused on providing a comprehensive clinical decision resource and optimized to deliver the fastest time to answer possible. Content is written by a world-class team of physicians who synthesize the evidence and provide objective analysis. Daily updates ensure you are always getting the most current information available.
Key Features
Precise Search Results mean clinicians get relevant search results every time. The redesigned search delivers a high level summary of available clinical information enabling you to quickly access your area of interest. An Image and Calculator filter is also available to further customize the search results.
Overviews and Recommendations provide clinicians with concise, accurate summaries for the common conditions as well as evidence-based recommendations for patient care.
Graphics and Images include over 4,000 figures, algorithms and images, with more than 1,000 images from ACP, that provide critical tools at the point of care. Content includes:
Tables
Clinical photos
Radiological imaging
Algorithms
Illustrations
Microscopic images
Expert Reviewers are an integral component of the DynaMed Plus editorial process. Subject-specific experts review topics using the DynaMed Plus proprietary evidence-based methodology and quality assurance processes.
Comprehensive Specialty Content includes thousands of topics covering emergency medicine, cardiology, oncology, infectious diseases, pediatrics, obstetrics and gynecology and much more.
Mobile Optimized web design displays the content in a user-friendly format from a PC, smartphone, or tablet.
Free Mobile App provides ability to access information offline, write and save notes, bookmark favorites, and email topics (iOS and Android available).
Micromedex® Clinical Knowledge Suite includes drug content such as drug dosing, interactions, off-label uses, and lab recommendations (select products only).
More information about DynaMed Plus
---



Other Valuable ACP Member Benefits Offering Free CME Credit and MOC Points
Annals of Internal Medicine publishes original research, review articles, practice guidelines, and commentary relevant to clinical practice, health care delivery, public health, health care policy, medical education, ethics, and research methodology. A subscription to Annals is an important benefit of ACP membership. Members receive full access to the digital editions, free Annals iPad app and/or print. Members also receive access to Annals-related CME/MOC. A subscription also includes two regular monthly features: (1) In the Clinic and (2) ACP Journal Club.
Point-of-Care CME - Earn FREE point-of-care CME credit simply by reading Annals articles online. Shape your educational experience with self-directed learning about topics that are most relevant to your practice. Read the articles and answer 2 multiple-choice questions about how you will use the information in patient care and earn CME credit.

Annals Consult Guys Videos - Watch entertaining videos on vexing questions in medical consultation and earn FREE CME credit. Tune into a new episode each month!

Annals Beyond the Guidelines - This multimedia educational series is based on Grand Rounds sessions at the Beth Israel Deaconess Medical Center. Earn FREE CME credit and MOC points.
---
Home
Last updated: 12.18.19