Helpful Resources in Caring For Your Aging Patient
According to the Administration on Aging, the older population—persons 65 years or older— numbered 44.7 million in 2013 (the latest year for which data is available). They represented 14.1% of the U.S. population, about one in every seven Americans. By 2060, there will be about 98 million older persons, more than twice their number in 2013. People 65+ represented 14.1% of the population in the year 2013 but are expected to grow to be 21.7% of the population by 2040. New York's total population is over 19 million individuals, and the State ranks fourth in the nation in the number of adults age 60 and over –3.7 million.
---
The Importance of Caregiver Support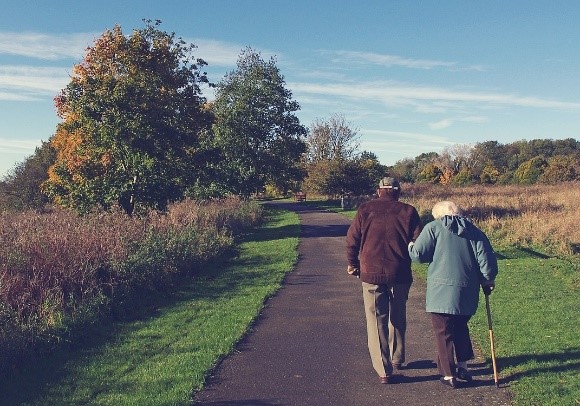 By Daniel King, MD, FACP
"The Important thing," Don kept saying through the visit, "is that we are together." "Together" is the key word here—because after nearly 50 years of marriage—Janet became overwhelmingly anxious and sometimes even violent when Don was not around. Don described how he and his wife attempted to hold on to the last vestiges of a once busy social schedule: how they continued going to the neighborhood book club until one day the neighbors approached him and told him not to bring Janet anymore, and how he used to enjoy golf 2-3 times a week, but now is lucky to get out once a month when one of his children is able to sit with Janet for a couple of hours. The couple still enjoys eating out with old friends, but the dinner conversation has grown increasingly awkward, as Janet is prone to declare non-sequiturs at very inappropriate times. Even as Janet seems unsettled when Don is not around, the opposite is also true. There are times when she will rush at him, fear in her eyes, confused as to who this strange man (Don) is in her house. In her fear, she sometimes attempts to hit him. She is distressed that he is keeping her from her parents (who have been dead for 25 years). Janet has Alzheimer's. Her once vibrant and engaged personality erodes day by day. Don, her husband of 50 years is now her full time caregiver. His primary focus is the goal of protecting his once strong wife and supporting her as best he can in their own home.
One of my patients remarked to me that she had a sense that more people are affected by memory loss today than was true in the past. Her perception is no doubt influenced by her surroundings in assisted living, but there is truth in her sentiment. As the baby boomer population ages, a greater proportion of the US population is over the age of 65. With more people over the age of 65, diseases of aging such as dementia are more common.[i] All of us in medicine, no matter what specialty, will encounter patients with various degrees of cognitive impairment. Also in the exam room, we will encounter their caregivers. Contrary to popular belief, most of the care for the elderly in the United States still falls on the shoulders of family members and loved ones. This has immense economic and societal impact. Studies have demonstrated high levels of stress and strain in caregivers. This is manifested in higher rates of psychosocial illness such as depression, elevated cortisol levels, and overall worse health outcomes.[ii]
In Internal Medicine we are taught to focus on the patient in front of us; we arrive at our answers/solutions through careful history, observation, and synthesis of data. The patient with dementia presents a conundrum: how do we address a problem that we still understand so little about, and for which the treatments we offer have only modest benefit? In primary care, how do we recognize that in the patient with dementia, we have not just the patient in front of us, but the caregiver who supports that person day in and day out? All too often I have heard from my patients and their caregivers that as cognitive impairment progressed, they felt increasingly isolated—not just by their social community, but also from their physician community. Faced with a lack of hard answers, these people express feeling unmoored, unsupported and left to fend for themselves as best as able. As they struggle with the burden of caregiving, they express a sense of grim determination and duty; failures are chocked up to personality defects ("I need to try harder"), rather than merely to a recognition that the task at hand is herculean and sometimes impossible.
As Internists on the front lines, there is more that we can do. First, in the case of dementia, and in the absence of viable medical interventions, we must recognize that our primary role shifts to one of support, not only for the patient in front of us, but for the caregiver behind the scenes that allows that person to exist in the community. We can start by first acknowledging this work and role. Simply discussing the stress of caregiving and asking how a caregiver is doing in the moment can have tremendous impact. We can help people feel less isolated by facilitating connections to local caregiver support groups, such as those run through the national Alzheimers Association. We can help facilitate respite and social services through resources such as the AARP, NY Connects, local and state offices of the aging and local nonprofits. When we sense strain or when a situation is progressing, we should feel comfortable offering referrals to social workers and care managers as well as frequent follow-up, not just at 6 month or yearly intervals for health maintenance.
As part of caregiver support, goals of care discussions are important from the outset. These can be grounded in a good understanding of the natural course of dementing illness, how it progresses, and what different stages of dementia look like, as well as what interventions are effective and which are more likely to cause harm. In early stages of disease, we can advocate for discussing a road map of personal wishes at different stages, and make sure important decisions regarding the health care proxy and power of attorney are made. Online resources such as The Five Wishes can be helpful to guide these discussions. At later stages, this early ground work can provide a roadmap both for physicians and caregivers to follow, making subsequent decisions much easier.
On a societal level, the economic and social costs associated with caregiver burden will increase over the next several decades. Solutions need to be explored at both the national and state level. A good starting point would be to look at what is done in societies around the globe who are meeting this challenge now. This includes looking to nations such as Japan that have adapted a mandatory payroll deduction for long term care insurance—providing financial support for a framework of in-home/in community care, or alternative models such as those in Sweden and Germany that provide direct financial assistance to caregivers for the work they are doing.[iii]
Through trial and error, we were able to help Don gain some respite twice a week with an aid who Janet grew relatively comfortable. This allows him time to play golf or commune with friends which in turn helped him face his time as a caregiver more recharged. At night the caregiving burden still rests heavily on Don's shoulders. Though his stated wish is to keep Janet in the house with him for as long as possible, part of the discussion is that at a certain point the level of care she needs will become too much and the possibility of long term care in a skilled nursing or memory care facility needs to be considered. Through good caregiver support, hopefully this trajectory, won't seem like a failure of the caregiver, but rather the product of all efforts tried and the natural result of a progressive disease.
---
[i] Herbert et al. "Alzheimer disease in the United States (2010-2050) estimated using the 2010 census" Neurology 80, May 7, 2013.
[ii] Allen, Andrew P. et al. "A systematic review of the psychobiological burden of informal caregiving for patients with dementia: focus on cognitive and biological markers of chronic stress." Neuroscience & Biobehavioral Reviews Vol 73, Feb, 2017. 123-164.
[iii] Campbell, John C. et al. "Lessons from Public Long-Term Care Insurance in Germany and Japan" Health Affairs 2010; 29, No 1, 87-95.
Ready, Steady, Balance: Falls Prevention Day Was September 22
The first day of fall is just around the corner, and with it brings the 9th Annual Falls Prevention day.
This year's theme, Ready, Steady, Balance: Prevent Falls in 2016, aims to unite professionals, older adults, caregivers, and family members to play a part in raising awareness and preventing falls in the older adult population. One-third of people 65 and older fall each year, and 20% of those falls cause a serious injury such as head trauma or a fracture. With proper precautions, these falls and accidents are preventable.
CDC Online STEADI Training:

To engage your older patients in interventions to reduce their fall risk, CDC developed the STEADI (Stopping Elderly Accidents, Deaths, and Injuries) Initiative to help providers incorporate fall prevention into clinical practice. CDC created this training to give you the tools you need to make fall risk screening, risk factor assessment, and falls interventions part of your clinical practice.
The content is based on established clinical guidelines. You will learn:
Two easy screening methods to determine a patient's fall risk
Three rapid standardized gait, strength and balance assessment tests
To apply the STEADI algorithm to determine a patient's fall risk level
To select appropriate evidence-based interventions based on risk level

You can take the CDC's new STEADI Online Training for Providers at: www.cdc.gov/steadi. All you need to do is create a free account on CDC TRAIN, Log in, and search "STEADI".
Resources for Patients:
---
New York State Office for the Aging: Community-Based Programs and Services Available to Compliment the Medical Care and Advice Physicians Provide to Older Adults

Did you know there are extensive community-based services available to older adults funded under the Older Americans Act? These programs and services are critical to an individual's overall health, wellness and independence. The New York State Office for the Aging (NYSOFA) and its network can help to connect patients through referral to the important day-to-day social supports that will reinforce and compliment the medical care and advice you provide.
NYSOFA contracts with 59 county based area agencies on aging (AAA) who have partnerships with almost 1,200 service providers to provide the following services in every county in the state:
NY Connects Program (ADRC) – provides county-specific, objective information and assistance in accessing long term services and supports, options counseling, benefits and application assistance

Health Insurance Information, Counseling and Assistance (HIICAP) helps individuals understand their Medicare benefits, assistance selecting Part D plans, etc.

Personal Care Level I and II (non-Medicaid)

Case management

Respite

Ancillary services such as Personal Emergency Response Systems (PERS) and assistive devices

Social adult day services

Transportation to needed medical appointments, community services and activities

Employment services

Legal Services

Home modifications, repairs

Long Term Care Ombudsman

Home delivered meals (HDM)

Congregate meals

Nutrition counseling & education

Senior center programming

Health promotion and wellness

Evidence Based Interventions – Chronic Disease Self-Management Education Programs (CDSMEs), fall prevention, etc.

Volunteer opportunities
Contact your local County Office for the Aging today to learn more about the community programs and services available to assist your patients in better accessing services that will help to improve their health care outcomes and maintain independence for as long as possible.
When you encounter an older adult and/or their caregiver, remember the aging network and the role they can play in helping your patients. Your referral to the Office for the Aging or NY Connects can make a big difference in their lives.
For more information, access the NYSOFA Resource Guide. You can also visit the ACP Practice Management webpage for a Geriatric Screening Tool and other helpful resources.
---
3.5.16: Materials Available to Assess and Address Fall Risk in Older Patients

Making Fall Prevention Part of Primary Care

Implementing CDC's STEADI Toolkit in a NYS County Health System (recorded webinar now available)

Falls among older New Yorkers (age 65 and over) are the leading cause of injury deaths, hospitalizations, and emergency room visits. To reduce falls, the CDC developed the STEADI (Stopping Elderly Accidents, Deaths, & Injuries) Toolkit. The STEADI Toolkit is a comprehensive resource designed to help healthcare providers incorporate fall risk assessment and proven interventions into clinical practice.
The Chapter is excited to offer this one hour CME accredited recorded webinar on "Implementing CDC's STEADI Toolkit in a NYS County Health System." Frank Floyd, MD, FACP, Associate Medical Director & STEADI Champion, United Health Services presented the webinar, which highlighted:
Information on the burden of falls in older adults in New York State

Resources in the CDC STEADI Toolkit

Challenges of incorporating fall prevention into clinical care

Tips for incorporating fall prevention into clinical care
Physicians who adopt STEADI can earn 20 ABIM/ABFM Maintenance of Certification credits. These credits qualify for Category II AMA credits as well.
---
CDC Online STEADI Training:

You can take the CDC's new STEADI (Stopping Elderly Accidents, Deaths, and Injuries) Online Training for Providers at: www.cdc.gov/steadi . All you need to do is create a free account on CDC TRAIN, Log in, and search "STEADI".
The content is based on established clinical guidelines. You will learn:
Two easy screening methods to determine a patient's fall risk

Three rapid standardized gait, strength and balance assessment tests

To apply the STEADI algorithm to determine a patient's fall risk level

To select appropriate evidence-based interventions based on risk level

To engage your older patients in interventions to reduce their fall risk
CDC developed the STEADI (Stopping Elderly Accidents, Deaths, and Injuries) Initiative to help providers incorporate fall prevention into clinical practice. CDC created this training to give you the tools you need to make fall risk screening, risk factor assessment, and falls interventions part of your clinical practice.

Patient/Caregiver Resources:
Please Note: Some resources are large files that may take a long time to download
Last Updated 11.21.18
Home