News Update!
---
MLMIC's June 2021 Albany Report
MLMIC's June 2021 Albany Report covers the conclusion of the New York 2021 Regular Legislative Session,
highlighting three items of passed legislation and other important legislative issues.
Imposing pre-judgment interest on a defendant when the plaintiff loses their motion for summary judgment.

Amending the current required disclosure of insurance policies in litigation discovery.

Expanding the current hearsay exception for employees' statements against their employers' interests.

Continued advocacy for a proposal on medical malpractice peer review and quality improvement programs for qualifying medical group practices.
---
MLMIC's April 2021 Albany Report
MLMIC's April 2021 Albany Report tackles recent New York State political developments and details four key items of interest to the medical professional liability insurance market from the recently enacted New York State 2021-22 budget.
Continuation of the Physicians' Excess Medical Malpractice Program (commonly known as the "Section 18 Program").

Extension of the Department of Financial Services (DFS) Superintendent's authority to set and establish primary and excess rates for physicians' and surgeons' medical professional liability insurance.

NYS Medical Indemnity Fund (MIF) appropriation.

Modifications to the New York State Office of Professional Medical Conduct (OPMC) due process protections for physicians faced with a complaint filed at the OPMC.

A significant increase from Governor Cuomo's proposed $193 billion executive budget.
---
MLMIC's February 2021 Albany Report
MLMIC has recently released its February 2021 Albany Report which breaks down items of interest from Governor Cuomo's 2021-22 NYS Proposed Executive Budget and highlights some potential political considerations.
---
Information and Links for connecting with MLMIC
MLMIC's COVID-19 Legislative Dashboard – provides information on important state and federal statutory/regulatory changes, including dates, sources/titles and explanations (updated 12/16/20)

MLMIC website, https://www.mlmic.com/covid-19, offers direct support, vaccine resources, FAQ's and
much more …

MLMIC Blog: https://www.mlmic.com/blog

The Scope: Medical Edition: https://www.mlmic.com/why-mlmic/services-resources/the-scope-medical - new publication published quarterly offering the latest health, legal, risk management, and insurance information

Healthcare Weekly: timely industry news (if not already subscribed, please let me know)

Twitter: https://twitter.com/MLMIC - updates and industry news from MLMIC

LinkedIn: https://www.linkedin.com/company/mlmic
Also, for those insureds who face challenges to their practice due to COVID-19, MLMIC continues to offer the following:
---

---
MLMIC's 4th Quarter 2020 issue contains several articles, including:
Managing Your Social Media Presence

CASE STUDY – Improper Medication Management in Psychiatric Treatment

MLMIC's Online Portal Access for Policyholders and Their Authorized Representatives

The Joint Commission Issues Telehealth Strategies
---
Put the Power of MLMIC at Your Fingertips
download MLMIC's Mobile App Today!
MLMIC's newly released mobile app provides quick access to exclusive, New York-focused benefits.
Take advantage of New York – specific risk management services

Gain 24/7 immediate access to specialized advice and legal resources

Login to MLMIC's secure portal and access renewal application updates, risk management courses, and MLMIC publications

Contact MLMIC representatives directly

MLMIC Resources
Claims • Risk Management • Underwriting • Education
Apply for Coverage • Contact • What's My Premium?
---
MLMIC Research Library
The MLMIC Research Library's services are available to all policyholders on a complimentary basis. MLMIC owns a large collection of medical malpractice risk management book and DVD titles that can be borrowed for up to a five week loan. Some recent additions include:
Legal manual for New York physicians
2019 hospital accreditation standards
2019 standards for ambulatory care
ASHRM health care claims and litigation playbook
The EMTALA answer book 2018
HIPAA compliance handbook 2018
Long Term Care State Operations Manual
Theft prevention guide for senior living
Why MLMIC?
NYACP continues to endorse MLMIC as a membership benefit because, for over 40 years, the Medical Liability Mutual Insurance Company (MLMIC) has put the interests of policyholders first. Their mission has always been to provide the highest quality liability insurance at the lowest possible cost consistent with long term viability.
MLMIC charges premiums that are specialty and territory specific, without a profit motive or high operating expenses. When MLMIC's financial results turn out better than expected, dividends are shared with policyholder holders. To help the insured avoid claims, effective risk management programs are developed that provide CME credits, a 5% premium discount, and the opportunity to qualify for free excess insurance funded by New York State. For policyholders that get a claim, MLMIC vigorously defends the standard of care, closing the vast majority of cases without a loss payment.
Today, MLMIC is the leading medical and dental liability insurer in New York State, and they insure approximately 15,000 physicians, 5,000 mid-level and allied health practitioners, 4,000 dentists, and 40 hospitals. MLMIC remains a mutual insurer owned by their policyholders. If you want an insurance carrier that truly looks out for you, please visit MLMIC.com or call (800) ASK-MLMIC.
Healthcare Weekly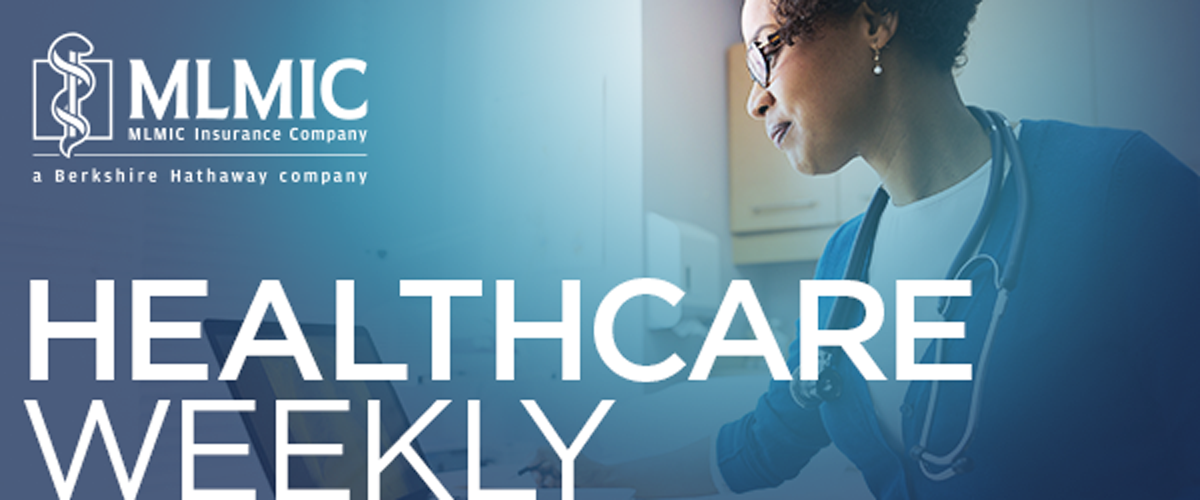 Read the latest MLMIC Insurance Company news - plus other relevant and valuable industry articles.
MLMIC Risk Management Tip #25:
Tip #25: Managing Negative Online Reviews

The Risk: Healthcare providers recognize that along with their practice websites, public websites such as Yelp, Healthgrades, and Rate MDs, and social media sites like Facebook and Twitter, can be used as marketing tools to inform the public of their services. The online community, however, is then afforded an opportunity to respond, rate, and, at times, complain about those services. These statements and reviews are readily accessible to anyone with an internet-ready device to open and read.
While there is a basic instinct to immediately respond to negative online reviews, healthcare providers must remember that privacy rules make a complete response via social media inappropriate, and responding directly to an online post puts the healthcare provider at risk of disclosing protected health information (PHI). Your response may not contain any identifying statements, but the mere recognition of a patient-provider relationship is a potential HIPAA violation.

Recommendations... >> Read More
---
The Scope: Medical Edition
The Scope is a new publication being released by MLMIC on a quarterly basis.
It combines the best of Dateline and Case Review into a single publication,
offering the latest health, legal, risk management, and insurance information.

The Second Quarter 2020 issue contains several articles including:
Transitioning Medical Practices Post COVID-19

MLMIC Releases Million Dollar Claims - A Closer Look

Million Dollar Claims: Diagnostic Errors Explored

Case Study: the Disastrous Effects of "Anchoring"
Click Here for the direct website link The Scope.
---
MLMIC has assembled a complete package of "Reopening Resources" comprised of select documents designed to serve as guides for medical professionals as they begin to un-pause and reemerge into what is sure to be a different
world than what it was in early March. The full range of COVID-19 materials from MLMIC is available at: https://www.mlmic.com/covid-19.
---
MLMIC and MedPro have collaborated and wish to offer guidance and important actions for healthcare practices to consider when developing a reopening strategy. Click HERE for more information.
---
---
MLMIC annnounces coverage continuation for returning physicians Volunteering to Battle covid-19
As part of MLMIC's ongoing support of the medical community as it takes on COVID-19, any retired physician returning to volunteer and aide in the COVID-19 efforts who was last insured by MLMIC prior to their retirement will have access to professional liability coverage without requiring any new premium. The same policy benefits and coverages will be provided as when the volunteering physician was actively practicing medicine and last insured with MLMIC.

Retired physicians who were last insured by MLMIC and choose to volunteer should simply call (800) ASK-MLMIC or click HERE.
---
MLMIC and COVID-19 Update
For the most up up-to-date COVID-19 information and to learn how MLMIC is supporting the medical community
(click here). Also, please make note of the following numbers and link:
MLMIC's toll free 24/7 Legal Hotline – (855) FAKS-LAW (1-855-325-7529) can help address many questions or concerns that may arise.

Our staff remains directly available via phone (800) ASK-MLMIC (1-800-275-6564) and every effort will be made to handle inquiries and answer questions regarding claims, coverages and policies on an immediate basis.

Questions about COVID-19? Call the New York State Coronavirus Hotline: 1-888-364-3065. Or, contact the New York State Department of Health: Covidproviderinfo@health.ny.gov​.

---
---
COVID-19: An important message for MLMIC policyholders
As our thousands of New York physicians, nurses, allied professionals, facilities, and dedicated health care teams engage the coronavirus COVID-19 on the front line, we want to reassure you that MLMIC Insurance Company stands with you. Our top priority is to do everything we can to support you. Our staff remains directly available via phone (800) ASK-MLMIC (1-800-275-6564) and every effort will be made to handle inquiries and answer questions regarding claims, coverages and policies on an immediate basis. MLMIC's toll free 24/7 Legal Hotline - (855) FAKS-LAW can help address many questions or concerns that may arise. For the latest information on this developing issue, follow us on Twitter and LinkedIn - and look for updates on the MLMIC Blog.
https://twitter.com/MLMIC • https://www.linkedin.com/company/mlmic • https://www.mlmic.com/blog
While the elements of battling this unprecedented virus are changing with each new day, MLMIC is making every effort to develop and deploy resources (i.e., targeted Risk Management publications, free online webinars, etc.) on such pressing issues as the use of Telemedicine to assist you as you fight through this truly challenging time. Further information will be provided over the coming days.
On behalf of everyone at MLMIC, we thank you for your service, expertise and efforts in keeping all of us safe and healthy.
---
MLMIC's November 2019 Case Review Publication

This issue of MLMIC's Case Review can be obtained in print (PDF) or as a podcast which will allow
policyholders and non-policyholders alike to listen to an audio version of each case study and its accompanying legal and risk management analysis. The cases in this issue include:
Case Study #1: Multiple Failures in Care Result in Neurologically Impaired Infant
Case Study #2: Questionable Eye Care and Records Lead to Large Settlement
---
AM Best Assigns Credit Ratings to MLMIC Insurance Company

AM Best has assigned a Financial Strength Rating of A+ (Superior) and a Long-Term Issuer Credit Rating of
"aa-" to MLMIC Insurance Company (MLMIC) (New York, NY). The outlook assigned to these Credit Ratings is
stable. >>Read More
---
MLMIC Joins Berkshire Hathaway Family of Companies
MLMIC has announced the official completion of its conversion from a mutual company to a stock company and its acquisition by National Indemnity Company, a subsidiary of Berkhire Hathaway. The cash consideration resulting from the conversion will be paid out to eligible policyholders as promptly as practicable. >>Read More
---
MLMIC Offers CME Modules to Address Diagnostic Errors
MLMIC has recently announced that a new series of CME modules addressing diagnostic errors is now available online.
High Exposure Liability: Errors in Diagnosis – Parts I & II feature a physician expert and a defense attorney discussing high exposure liability claims associated with errors in diagnosis. The top medical factors that contribute to diagnostic errors are reviewed, and strategies to prevent claims are outlined. A case study analysis illustrates the key medical and legal issues that impact the outcome of a diagnostic error claim. Risk management strategies to help physicians improve the quality of patient care and reduce their potential liability risk are also provided.
To learn more about MLMIC's CME modules, including how to register and view them, please click here or contact MLMIC.
---
Dealing with Patients Who Have Compromised Driving Ability
One of the most difficult decisions an individual faces is whether and when to surrender his/her driver's license and stop driving. In addition, physicians are often in a quandary regarding the extent to which they are obligated to report to the New York State Department of Motor Vehicles when they believe a patient should not be operating a motor vehicle. It is recommended that you take a few minutes to read this important and informative article. >> Read More
---
What to Do When Patients Record Conversations with Their Patients
The use of cell phones by patients and families for the purpose of recording conversations with their healthcare providers is a topic of serious concern to many physicians. >>Read More
---

Medical Liability Mutual Insurance Company (MLMIC) was formed in 1975, in cooperation with the Medical Society of the State of New York (MSSNY). It is a mutual professional liability insurance company, which means that it is owned by the healthcare providers it insures. Headquartered in New York City, MLMIC has field representatives throughout the State, as well as three regional offices located in Syracuse, East Meadow, and the Albany area.

Management and direction of MLMIC is accomplished through a Board of Directors, comprised of physicians, dentists, and hospital administrators. Policyholders have full voting rights on management issues. MLMIC is an active participant in the national organization, Physician Insurers Association of America (PIAA), and has been a leading force in development of risk management programs and systems, cause of loss identification, and patient safety education.

Home
Last Updated: 7.27.2021