New Physician Spotlight Podcast - Released 4/28!
---
NYACP represents over 2,000 medical students in New York. Together, we can help you define the right career path, participate in educational activities, connect with mentors and peers, learn the advocacy process and keep you up to date with social media and communications.
---
Meet NYACP's 2021/22 Medical Student Council/Board Representatives
Michelle Toker Bio
Michelle is a third-year medical student at Albert Einstein College of Medicine, Class of 2023. She graduated from State University of New York at Binghamton in 2019 with a BS in Integrative Neuroscience and a minor in Health and Wellness. Michelle has served as the President of the Internal Medicine Interest Group and the American Medical Women's Association...click to read more
Kanan Shah Bio
Kanan completed her undergraduate education at Yale, where she focused largely on public health. She is currently a MS2 in the 3-year MD pathway for internal medicine at NYU and is set to begin residency July 2022. She hopes to pursue an academic career in cardiology or hematology/oncology...click to read more
---
Current News
new for 2021!
Tweetorials
Released the 2nd Wednesday of every month on the Chapter's Twitter Page
Physician Spotlight Podcasts
Released the last Wednesday of the Month at the top of this page. The NYACP Medical Student Committee members meet members from across the state to discover the many different career opportunities in IM!

Congratulations to our spring 2021 E- Poster Presenter Winners!
nyacp's virtual e-poster competition: April 8 & 15, 2021
Medical Student Clinical Vignette
1st Place: Rebecca Lorenzana - New York Medical College
2nd Place: (tie) Jordan Donegan - SUNY Upstate Medical University
2nd Place: Kingshuk Mazumdar - Albany Medical College
3rd Place: Rachel Axman - SUNY Downstate Health Sciences University
Medical Student Research
1st Place: Nicholas Cochran-Caggiano - Albany Medical College
Resident and Fellow, Medical Student Quality, Patient Safety and Advocacy

1st Place: Karen Kruzer, MD- University of Rochester Medical Center
2nd Place: Alison Daly, MD - NYU Langone Hospital - Long Island
2021 NYACP E- Poster Competition Book (Spring 2021)
---
Recorded Webinar
Navigating the Financial World
Sponsored by the NYACP Medical Student Committee
Tuesday, July 14, 2020
10am-11am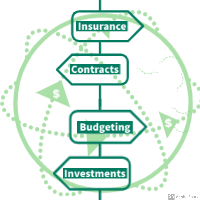 Facilitated by: Chris Elsayad, MD, MBA, FACP
You mastered the basic sciences and you can master financial basics too! Supplement your medical studies with financial education to prepare for financial health and stability. Chris Elsayad MD, MBA, FACP was inspired and encouraged to get an MBA and teach physicians about financial essentials. Join Dr. Elsayad for a dynamic presentation on the basics of Contracts, Insurance, Budgeting and Investments and be prepared for the next step in your career and beyond!
---
Recorded Webinar

Internal Medicine: Careers in Medicine
Thursday, June 21, 2018 from 4-5 pm
Do you want to learn more about the various opportunities available within Internal Medicine? The
NYACP is excited to offer a one-hour webinar to dive into the different positions available within
Internal Medicine such as Academia, Education, Subspecialty/Fellowship and Hospitalist.

Faculty: Joseph Wayne, MD, MACP - Albany Medical College, Michael LoCurcio, MD, FACP- NYU
Langone, Niket Sonpal, MD, FACP - Brookdale Hospital, Chris Elsayad, MD, FACP Nassau University
Medical Center, Marc Braunstein,MD, PhD - NYU Winthrop University Hospital, Abhi Amarnani, Med Student- SUNY Downstate University Medical Center
View the webinar
---
Recorded Webinar : Medical Student Advocacy
Thursday, April 26, 2018 3:00 - 3:30 pm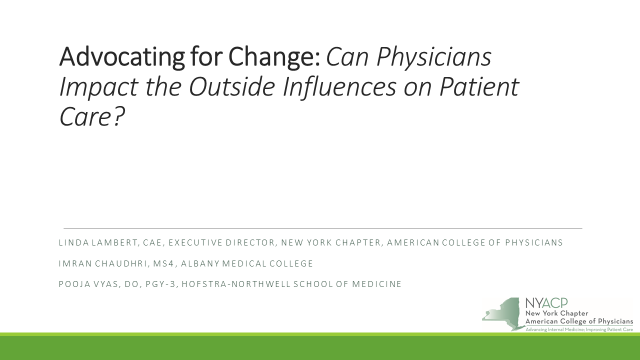 Why Should Medical Students become active in Advocacy? Why is it important? Do you want to hear about experiences from the NYACP Advocacy Internship? Please join us for a webinar
facilitated by NYACP Executive Director, Linda Lambert, to highlight the importance of being knowledgeable on advocacy issues and how your voice matters!


View Recorded Webinar
Powerpoint
---
Recorded Webinar : What to Expect in Your Internal Medicine Rotation
Thursday, March 15, 2018 4:00 - 5:00 pm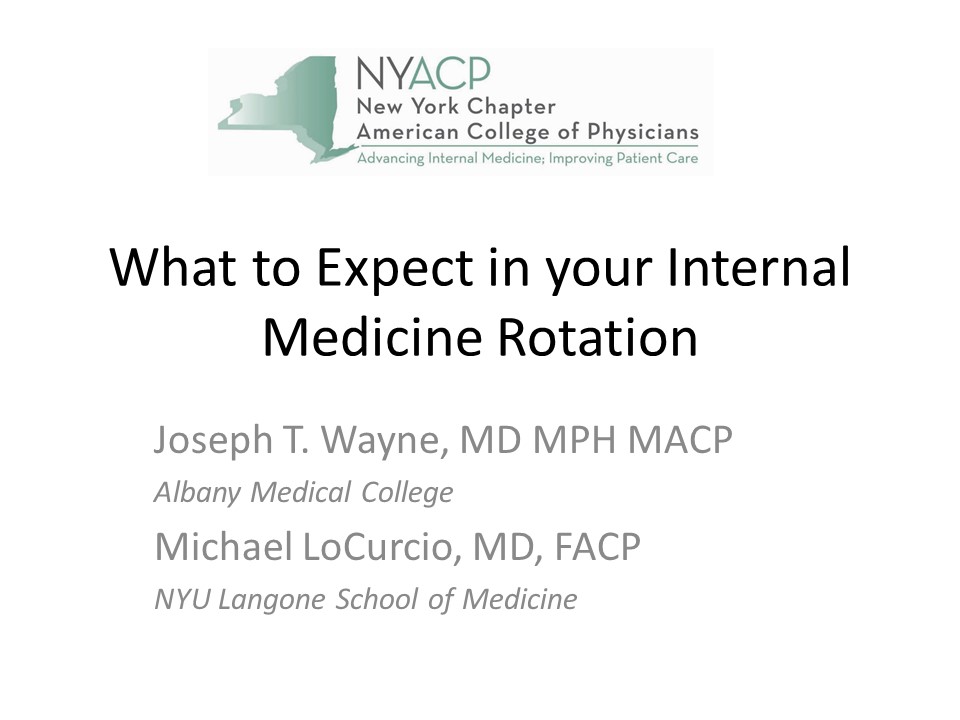 The third year medicine clerkship is also sometimes called a "foundational" rotation for students, primarily because it is so important to your subsequent clinical training experiences, and because the things you will hopefully learn will start to build a foundation of knowledge you will use for your entire career. Dr. Wayne and Dr. LoCurcio will dive into the what you can expect in your 3rd and 4th years of medical school and answer questions you send in advance or onsite.


View Recorded Webinar
Powerpoint
Q & A
---

Recorded Webinar : Key Points in Writing a Successful Abstract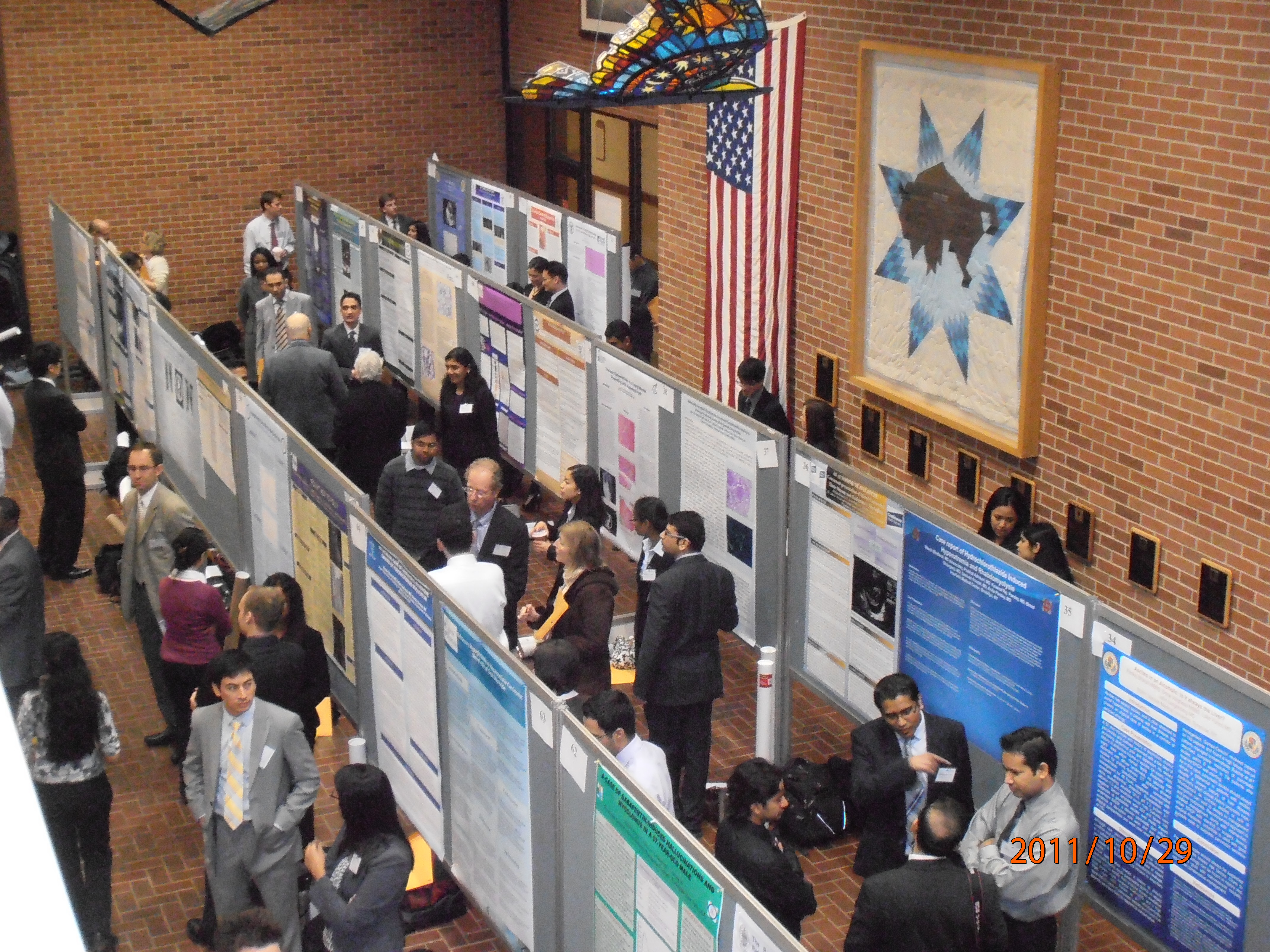 Thursday, February 15, 2018 4:00 - 4:30 pm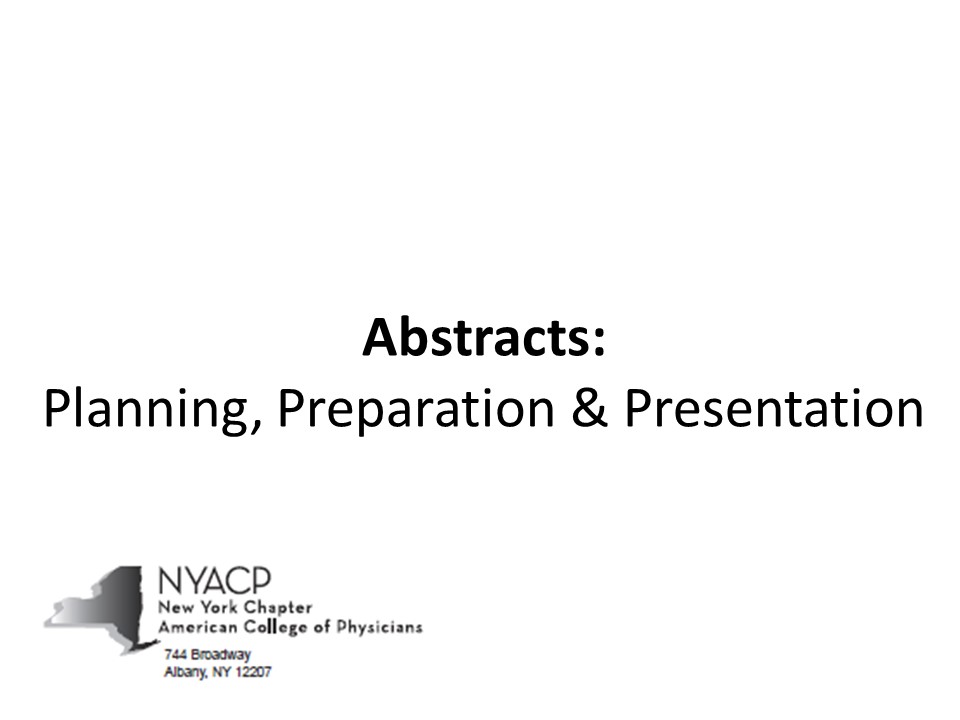 Dr. Joseph Wayne, APD / Clerkship Director for Albany Medical College will help you understand the purpose of a medical or scientific abstract. He will discuss the ways to recognize the different types of abstracts (research, clinical vignette or quality) and the do's and don'ts of writing a successful abstract. The first rule of writing abstracts is to know the rules. Organizers of scientific meetings set explicit limits on the length of abstracts. Authors must pay close attention to the details of the meeting including deadlines and suggested format.

View Recorded Webinar
Powerpoint
Q & A
Panelists:
Michael LoCurcio, MD, FACP
Attending Physician and Clerkship Director
NYU Langone Medical College

Joseph Wayne, MD, MACP
Attending Physician and Clerkship Director
Albany Medical College
Abhimanyu Amarnani
NYACP Medical Student Council Board Rep
SUNY Downstate Medical Center
---
Recorded Webinar: Residency Application Advice and Interview Questions
Thursday, January 18, 2018 (4:00 - 5:00 pm)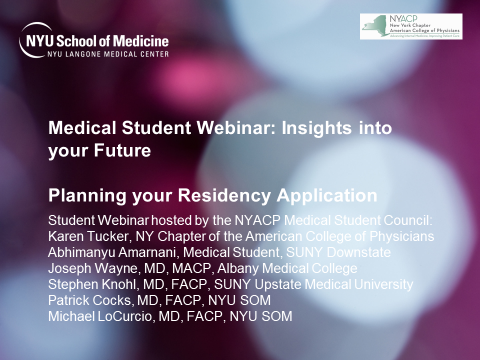 This webinar is first in a six-part series created specifically for medical students. This lively discussion was on the residency application process and interview questions with Program and Clerkship Directors.

View Recorded Webinar
Powerpoint
Handouts
Webinar Q & A

Panelists:
Patrick Cocks, MD, FACP
Attending Physician and Program Director
NYU Langone Medical College

Stephen Knohl, MD, FACP
Attending Physician and Program Director
SUNY Upstate Medical University
Michael LoCurcio, MD, FACP
Attending Physician and Clerkship Director
NYU Langone Medical College

Joseph Wayne, MD, MACP
Attending Physician and Clerkship Director
Albany Medical College
Abhimanyu Amarnani
NYACP Medical Student Council Board Rep
SUNY Downstate Medical Center
---
News!

Message from Philip A. Masters, MD, FACP
Vice President, Membership and International Programs

Although you may be very busy preparing for the Match right now, remember that once it is over, you will still have significant time remaining in medical school.

Here are 5 things to think about to make the most of your fourth year experience:
Avoid the temptation to make the transition to residency too quickly. Minimizing your participation in school activities diminishes your own learning and experience.
Once you have successfully matched, enjoy your newfound opportunity to put your knowledge into practice. With your classwork is behind you, focus on developing your skills as a medical professional.
It isn't necessary to focus only on internal medicine content at the expense of participating in other unique learning experiences offered by your school.
Take advantage of electives and rotations that may broaden your skill set and enrich your abilities as a physician.
Be a leader by sharing the knowledge and experiences you've gained with other students in your school.
Taking advantage of the freedom and your accumulated wisdom during your fourth year will help make you a better physician.

Learn more about how to make the most of your fourth year at ACP Online.
Check out the the article in the September issue of ACP's IMpact: My Kind of Medicine by Dr. LawrEnce Phillips, MD, FACC, MACP, FASNC-president, nyacp and PAST pRESIDENT OF nyacp
Medical Student Perspective: 10 Keys to Succeeding in Medical School - check out the feature article in the ACP's Impact!
10. Showing up counts. Body and mind wellness are more linked than we realize at times. More...
Medical Student Perspective: 10 Tips on How to Be Happy in Medical School
To some fellow medical students, happiness may be shrugged off as a weak emotion or a last priority. Other medical students would say that happiness is the key to making the medical school experience memorable and positive. I believe that to be happy is a wonderful feeling, and when I am happy, I am more efficient, productive, and enthusiastic. <<read more
---
IMIG Update:

The ACP IMIG Sponsorship Program provides funding and resources to internal medicine interest groups in U.S. medical schools.
Sign your school up today for funding of an IMIG group:
ACP IMIG Application
Have questions about the Internal Medicine Interest Group Sponsorship Program? Visit www.acponline.org/imig or e-mail imig@acponline.org.


Roadmap to Residency: Understanding the Process of Getting Into Residency
The AAMC has published an updated version of the Roadmap to Residency, a guide to preparing for and applying to residency. The publication outlines resources to help medical students
find detailed information about residency programs, and includes data on specialties, when to take licensing exams, loan options, and the interview process. Download PDF
Understanding Internal Medicine: A Guide for Medical Students

What is internal medicine? How is it different from other specialties? How is internal medicine training structured? What are the internal medicine subspecialties? Explore ACP's free resource: Understanding Internal Medicine: A Guide for Medical Students for more details on these key questions that will aid you in deciding on your career path.
Which Career Path in Internal Medicine is Right for You?

These articles contain information about Careers in Internal Medicine and is designed for medical and pre-medical students.
Need a Mentor?

If you have specific questions about scheduling your summer preceptorships, getting through the match, and preparing for clerkships and residency interviews, search the database and find a mentor who can provide the guidance and information you need. Mentors are College members, including Program Directors, Clerkship Directors, Chairs of Medicine, and practicing internists, and residents. Be matched with one today!
Find A Residency Program

Search this interactive residency database for information on all internal medicine, medicine-pediatric, and other combined programs in the United States and Canada. You must be an ACP member and log in using your ACP User name and password to access the database.
Applying for a License in New York State
Education
Abstract Competitions

NYACP sponsors local abstract competitions that offer you an opportunity to compete with your peers from across New York State. You have the chance to collaborate with your program director, discuss your research or clinical experience and formally write an abstract for professional review. You can also include your submission on your CV as scholarly activity.
Home
Last Updated 3.31.21