Resident and Fellow Clinical Vignette

1st Place:
Reem Yusufani, MD, MBBS- Nassau University Medical Center
2nd Place:
Malvi Thakker, MD - Mather Hospital, Northwell Health
3rd Place:
Aneeqa Zafa, MD - Rochester General Hospital




Resident and Fellow Research

1st Place:
Gayatri Gupta, DO - SUNY Downstate Medical Center




Resident and Fellow, Medical Student Quality, Advocacy and Public Policy

1st Place:
Krishna Akella, DO- Stony Brook Southampton Hospital
2nd Place:
Gianni Bono, MD - Albany Medical College

The complete listing of all entries in both the preliminary and the final abstract competitions can be found here.
Congratulations to all who submitted abstracts for your participation in this highly competitive professional education endeavor!
The Chapter's next poster competition in October 2019 , we will begin accepting abstract submissions online in early April. Stay tuned to future communications for more information!
---
Winners from NYACP's 2019 Drs. Dilemma and Poster Competition

Dr's Dilemma Competition Winner:
Rochester Regional Health/Unity Hospital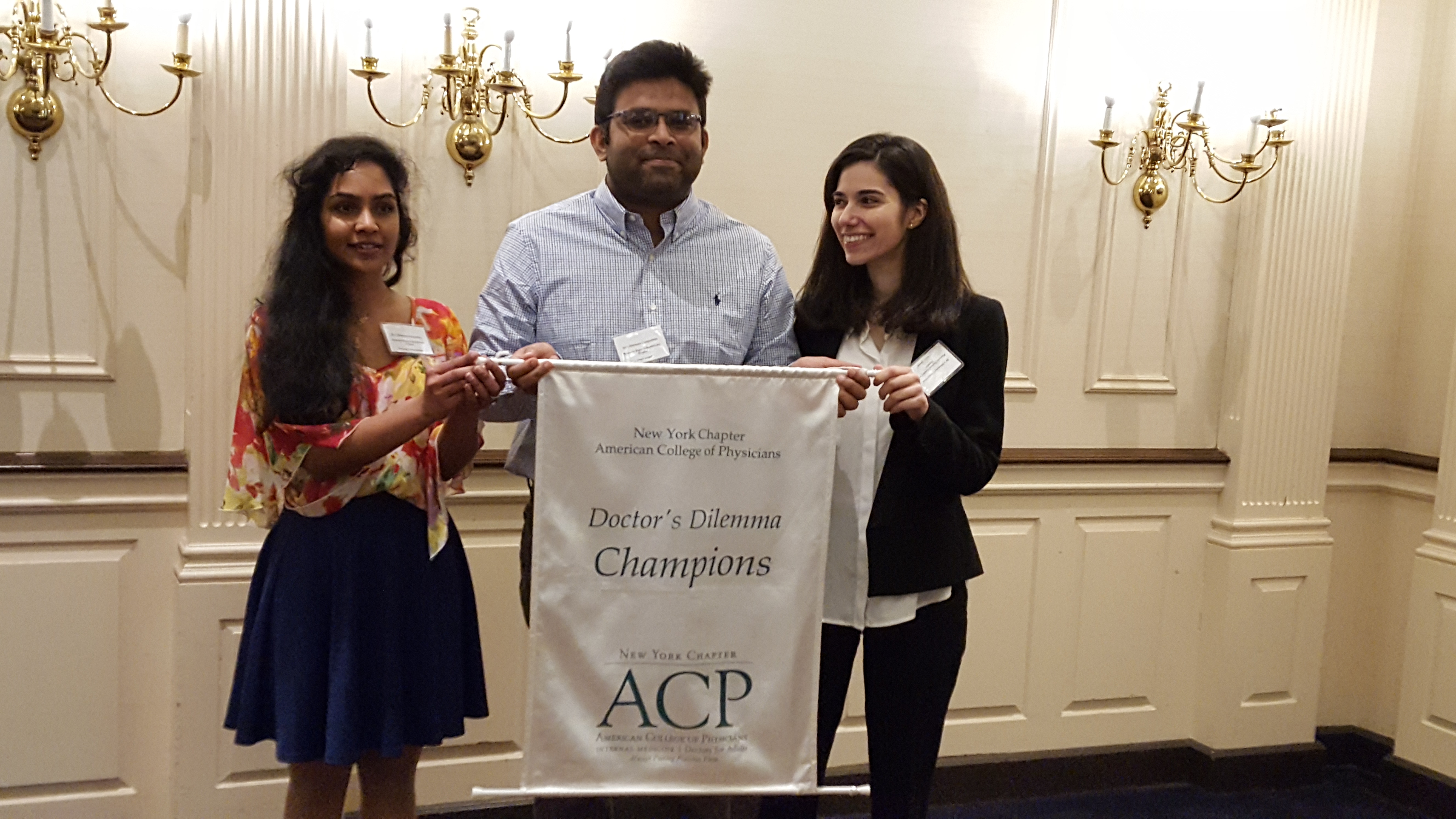 Congratulations to Rochester Regional Health/Unity Hospital for winning first place in the 2019 NYACP Dr's Dilemma Competition! Twenty teams participated this year – the highest number ever – in very challenging and highly charged rounds! The winning team will be representing New York in the ACP IM19 Competition in Philadelphia on April 11-12, 2019!

Adeel Arshad
Sandrine Hanna
Pratyusha Tirumanisetty
Special thanks to volunteers Harshitha Kota, MD, Jacqueline Heath, MD, Prateek Mathur, MD, and Paridhi Mathur, MD from the Chapter's Residents Committee and Ben Max and Karen LaBello from Chapter staff for assisting with making the Doctors Dilemma competition run smoothly.
Thanks especially to Niket Sonpal, MD, FACP, emcee extraordinaire, and our Judges Drs. Shady, Stehlik and Kaul.