Treating Tobacco Dependence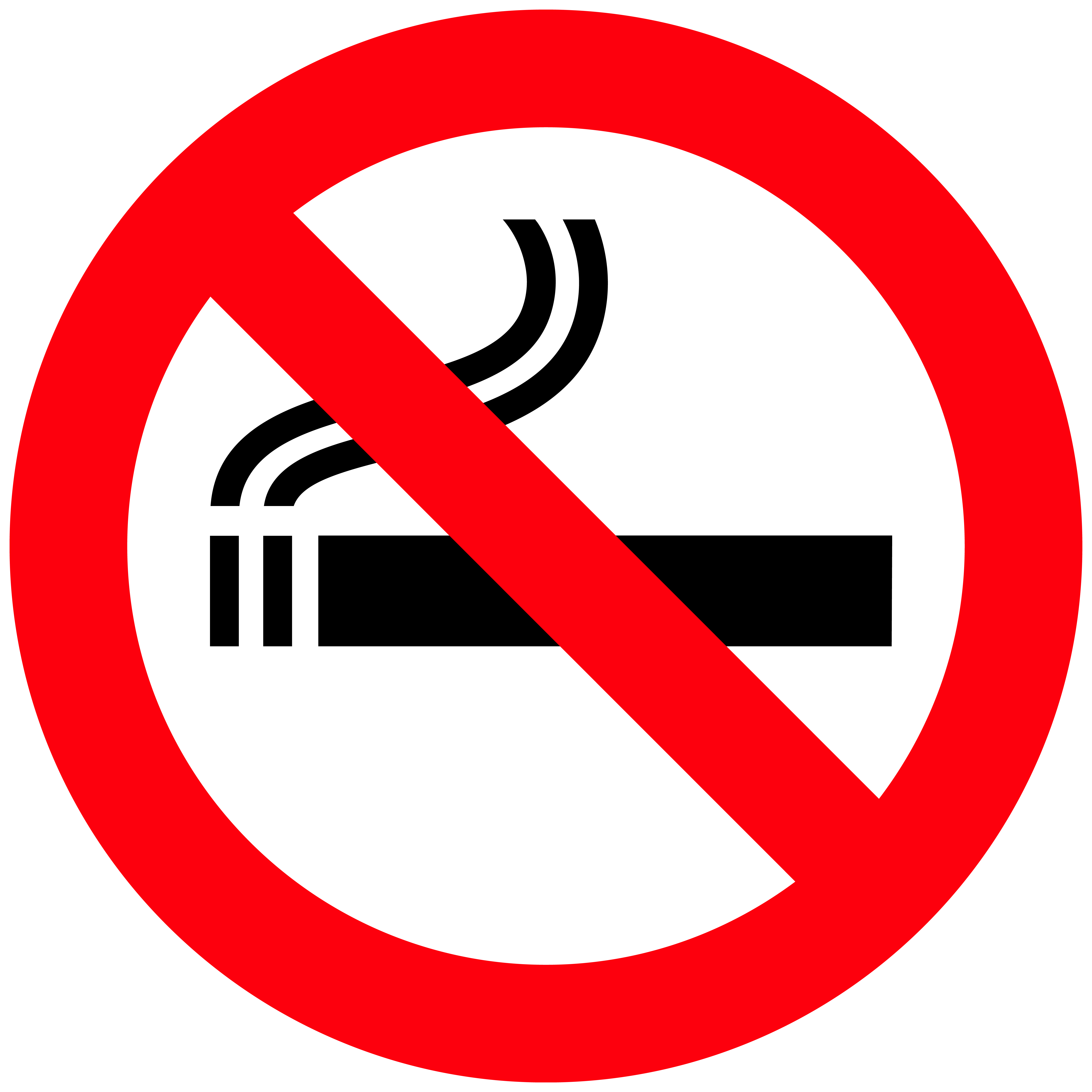 Jump to: News • Resources
---
Webinar Recordings on Smoking Cessation
Motivational Interviewing and Brief Action Planning for Smoking Cessation in Primary Care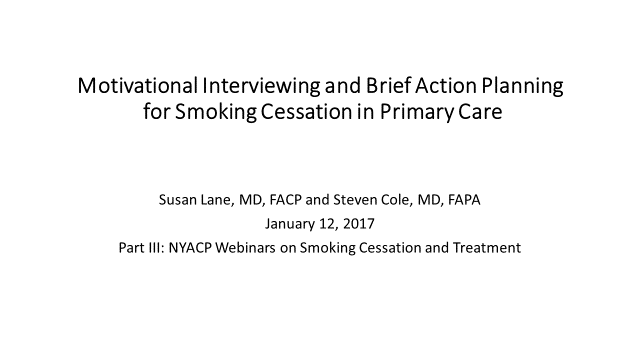 Presented on Thursday, January 12, 2017
Presented by: Susan Lane, MD, FACP and Steven Cole, MD, FAPA

Objectives:
(1) Describe the four elements of the Spirit of Motivational Interviewing (MI)
(2) Describe 5 core competencies of Brief Action Planning (BAP)
(3) Explain the relationship of MI and BAP and the patients for whom MI and BAP are likely to be most appropriate
(4) Apply some of the core skills of BAP with their patients who smoke and/or have other risky health behaviors
Access The Webinar • Access the Handouts
---
Closing the Gap: Treatment of Tobacco Dependence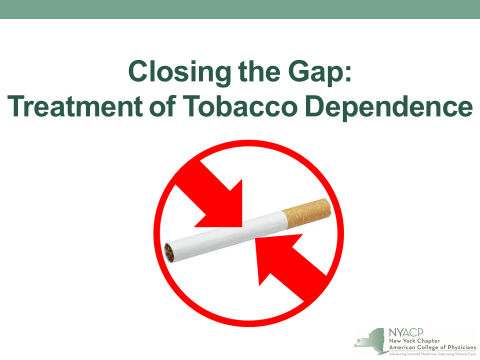 Presented on Tuesday, December 6, 2016
Presented by: Donna Seminara, MD, FACP

Objectives:
(1) Treat tobacco users using the 5 A's model of tobacco dependence treatment;
(2) Identify effective approaches to counseling and recognize components of a non-judgmental counseling method called motivational interviewing;
(3) Confidently prescribe and list major side effects of the FDA approved smoking cessation medications; and
(4) Answer your patients' questions about electronic cigarettes.
Access The Webinar • Access the Handouts • References
---
Beyond Cigarettes: It's Not Just Tobacco Anymore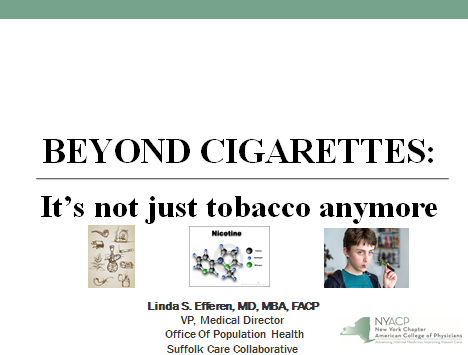 Presented on Wednesday, November 30, 2016
Faculty: Linda Efferen, MD, MBA, FACP, FCCP, FCCM
Objectives:
(1) Summarize demographic trends in tobacco and other nicotine delivery device(s) use;
(2) Interpret evolving evidence related to toxic effects of nicotine and/or other agents in Electronic Nicotine Delivery Systems (ENDS); and
(3) Assess relative risk / benefit of ENDS relative to tobacco use prevention / cessation strategies

Access The Webinar • Access the Handouts • References
---
NEW YORK RESOURCES

New York State Smokers' Quit line: 1-866-NY-QUITS (697-8487) or dial 311.
5 Steps to Quit Smoking Flier and Other Resources - Click Here
NYS Quitline - Click Here

Refer-to-Quit (online registration) or Fax-to-Quit
Medication Discount cards, NYC & NYS
Savings calculator
Statewide listing of local programs
Materials for patients and providers
Text messaging and social media programs to help with quitting

NATIONAL RESOURCES
Smokefree.gov - Click here

Information about a wide range of topics related to smoking and quitting
LiveHelp, the National Cancer Institute's instant messaging service
National Cancer Institute's telephone quitline, 1-877-44U-

QUIT

Local and state telephone quitlines, 1-800-

QUIT

-

NOW

SmokefreeTXT, the National Cancer Institute's text messaging service
Smokefree apps, quizzes, and materials to download
Publications to download, print, or order
Text "quit" to 47848 for more information

CDC Best Practices for Comprehensive Tobacco Control Programs - Click Here
CDC TIPS Campaign - Click Here
American Lung Association - Click Here
American Cancer Society - Click Here

Tobacco Cessation Training For Health Professionals

Registered Nurses Association of Ontario - Click Here
NYC Quits - Click Here
Motivational Interviewing Training - Click Here
ACP Practice Advisor Modules (including Motivational Interviewing) - Click Here

Videos on Motivational Interviewing

Speaking to Your Patient About Smoking Cessation - Click Here
Motivational Interviewing for Busy Clinicians - Click Here
Information and Training on System Wide Smoking Cessation: The Ottawa Model - Click Here

State Laws on Tobacco Products
---
Free Smoking Cessation Learning Module Available Online!
Tobacco use is the leading cause of preventable death in the U.S., and as physicians, you are in the best position to help patients successfully quit smoking, while simultaneously lowering their risk of heart disease, stroke, COPD and other diseases.
Recently, the NYC Health Department has developed an excellent and free online learning module to assist physicians by enhancing your knowledge on how to effectively assess, counsel, and address tobacco use, greatly improving patients' chances of successfully quitting. For medical residents, this module meets five of the six Accreditation Council for Graduate Medical Education core competencies and is able to be placed in your learning management system. For attending physicians, this module provides 1 CME credit.
Highlights of the module include:
The "5 A's" model of treating tobacco use

Provider/Patient communication techniques

Treatment options and guidance, including combination therapy

New York State Medicaid Benefits

Billing information for smoking cessation counseling
Click here to access the online module (requires flash) and here to access additional provider resources.
Last Updated 1.31.19
Home