Centers for Medicare and Medicaid Services (CMS) and State Department of Health programs are offering resources and free technical assistance to help practices prepare for participation in value-based payment. While these programs have different eligibility requirements, they are aligned in providing free on-site technical assistance to practices to analyze readiness, assess individual practice needs and help identify procedures and policies to allow practices to receive enhanced payments under a variety of value based care programs. Technical Assistance (TA) providers can help your practice to improve care delivery and use data to evaluate practice performance and improve claims processing.
---
The New York State Patient Centered Medical Home (NYS PCMH):
formerly NYS Department of Health Advanced Primary Care Program
NEW for 1.31.19: The National Committee for Quality Assurance (NCQA) continues to provide tools and resources to assist physicians with practice transformation and NYS PCMH recognition.
NCQA has posted a short video of a practice in Watertown, NY that achieved the Triple Aim: better health, lower costs and better patient experience through the NYS PCMH transformation model.
You can access the video here: https://www.ncqa.org/videos/pcmh-transformation-story-samaritan-family-health-network/
---
On April 1, 2018 the New York State Department of Health (NYSDOH), in collaboration with the National Committee for Quality Assurance (NCQA) launched an innovative model for primary care transformation known as the New York State Patient Centered Medical Home (NYS PCMH). This statewide, innovative advanced primary care approach is characterized by a systemic focus on high quality care, population health and integrated behavioral health.
The NYS PCMH Recognition Program, built upon the NCQA PCMH model, is exclusive to New York State and supports the state's initiative to improve primary care and promote the Triple Aim: Improving Health, Enhancing Quality, and Reducing Costs.
Benefits and resources available through the NYSDOH:
Initial Recognition Fees - no cost to practices. NYSDOH will cover the first year NYS PCMH Recognition fee or the first NYS PCMH Annual Reporting fee. The practice is responsible for paying their Annual Reporting fee each year after earning NYS PCMH Recognition.

Transformation Assistance. New York state contracted with 15 organizations that specialize in NYS PCMH transformation and provide technical assistance at no cost to participating practices. These entities provide step-by-step assistance in managing the transformation process and support the efforts of improving the patient experience. For more information or to find a Transformation Assistance Contractor, visit the NYSDOH website or ncqa.org/ta.

Enhanced reimbursement opportunities. Supplemental payments through state programs such as the Medicaid PCMH Incentive Program may be available to practices that participate in NYS PCMH transformation. NYSDOH is also engaged regionally with commercial payers to implement voluntary, multi-payer value-based payment (VBP) arrangements to support practices that have not had these opportunities through previous transformation efforts.
NCQA and the NYSDOH have also developed numerous resources to assist in your transformation journey:
More information on NYS PCMH program requirements, resources and benefits can be found on the NYSDOH website or the NCQA website.
"The project described was supported by Funding Opportunity Number CMS 1G1CMS331402 from the U.S. Department of Health & Human Services, Centers for Medicare & Medicaid Services. The contents provided are solely the responsibility of the authors and do not necessarily represent the official views of HHS or any of its agencies."
---
Recorded Webinar: A Frank Discussion: Provider Concerns and Barriers to Value Based Payment
in NYS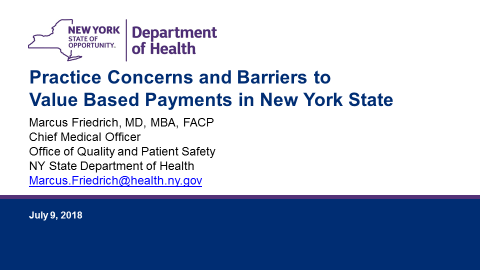 Are you concerned about the changes in reimbursement with value based care? With the changing landscape of state, federal and commercial Value Based Payment contracting, is your practice in a good position to achieve value based care? The New York State Department of Health would like your input.

Moderator: Marcus Friedrich, MD, MBA, FACP, Chief Medical Officer, Office of Quality & Patient Safety (OQPS), and the NYSDOH NYS PCMH Team.

Access the Webinar •
---
MACRA/Quality Payment Program
New Quality Payment Program Resources
The Centers for Medicare & Medicaid Services (CMS) recently posted new resources to the Quality Payment Program website to help eligible clinicians successfully prepare to participate in the program.
Resources for clinicians include:
---
The CMS Medicare Access and CHIP Reauthorization Act of 2015 (MACRA) Quality Payment Program (QPP), which replaces the flawed Sustainable Growth Rate (SGR), will equip clinicians with the tools and flexibility to provide high-quality, patient-centered care. Physicians can choose how they want to participate based on practice size, specialty, location, or patient population.
CMS has launched the Quality Payment Program educational website to provide news and updates on:
New resources and website updates
Upcoming milestones and deadlines
CMS trainings and webinars
For all the latest QPP news from CMS click here.
---
TCPI
The Transforming Clinical Practice Initiative (TCPI) is designed to support clinician practices through nationwide, collaborative, and peer-based learning networks that facilitate large-scale practice transformation. The overall aim of the TCPI is to help equip clinicians with tools and support needed to achieve the triple aim of better health, better care and lower costs.
ACP, as one of 10 Support and Alignment Networks (SANs), will provide an array of tools and resources to support clinicians and practices as they transform from volume-based to value-based, patient-centered care. Enrollment benefits include: developing core competencies in practice transformation AT NO COST; improved health outcomes and better coordination of care for patients; closer alignment with new federal policies and incentives; and free CME credit and MOC points.
You are likely eligible to receive transformation assistance if your practice uses a 2014 certified EHR and is NOT currently participating in one of the following:
Medicare Shared Savings Program
Comprehensive Primary Care Initiative
Pioneer ACO Program
Multi-Payer Advanced Primary Care Program
To find out more about eligibility, available resources and technical assistance, click here.
To learn more about the CMS initiative, go here.
---
ACP has assembled helpful tools and resources to assist physicians as they navigate through the implementation stages. To learn more about the tools and resources for internal medicine from ACP go
here
.
Last Updated 1.31.19
Home