With almost three-quarters of New Yorkers enrolled in High Deductible Health Plans (1), increasing out-of-pocket costs are driving patients to become more informed consumers. Just about half (48%) of state residents have attempted to research price information before getting care (2). Patients are thinking about it and want to talk about it. 66% expressed that they like the idea of their physicians and staff discussing cost with them and consider them a trusted source for information.(2) However, less than half actually ask their Doctor (2). The topic can be awkward, taboo even, and patients know that time is limited. Yet, understanding a patient's cost concerns could mean the difference between getting the treatment they need versus forgoing treatment altogether. Just as patients look to you as a credible source, we know you look to NYACP as a source for education, information and resources. We are here to support you in the quality and cost conversation with your patients! NYACP can equip you with free tools, resources and best practices necessary to effectively engage and empower patients considering cost as a part of their decision making. The objectives of this course are to:

1. Identify opportunities in the daily workflow for having Cost of Care conversations.
2. Choose tools for patients and staff that support Cost of Care conversations.
3. Integrate Cost of Care information into decision making, treatment plans and patient visits.
The Cost of Care Conversation course is designed and distributed by NYACP for use in medical practices, hospitals, residency programs and medical schools. Support for this work was provided by the New York State Health Foundation (NYSHealth). Though the topic is not mandated or a regulation requirement, the organization recognizes the importance of price transparency in healthcare. Encouraging patients and physicians to discuss out-of-pocket costs can build relationships and improve outcomes.
Due to the nature of this topic, no formal assessments will be given and no passing grades are required. There will be opportunities in each module to check your knowledge. This course will not be moderated by an instructor from NYACP. Learners may choose to take this course on their own or Program Directors my choose to export this course to utilize in their own curriculum.
This course consists of 3 modules that can be taken in any order at any time. The learner, program director, or other identified instructor may choose the module(s) that best suits their needs. We do encourage you to view all of the modules in order to get the most from the course.
(1) Agency for Healthcare Research and Quality. (Medical Expenditure Panel Survey Insurance Component Tables, 1996–2016). Table II.F.1, Table II.F.12, Table II.F.13, Table II.F.15, Table II.F.16.Retrieved May 3, 2018, from https://meps.ahrq.gov/mepsweb/data_stats/MEPSnetIC/startup (2) Schleifer, D., Silliman, R., & Rinehart, C. (2017). Research Brief: How People in New York Statue Use Halth Care Price Information".Public Agenda.
1. Introduction to Cost of Care Conversations
a. Define costs of care​
b. Identify the value of out-of-pocket cost conversations
2. Tools for Cost of Care Conversations
a. Choose tools to support out-of-pocket cost conversations
3. Integrating Cost of Care Conversations Into Patient Care
a. Integrate out-of-pocket cost conversation into patient care encounters
---
Introduction to Cost of Care Conversations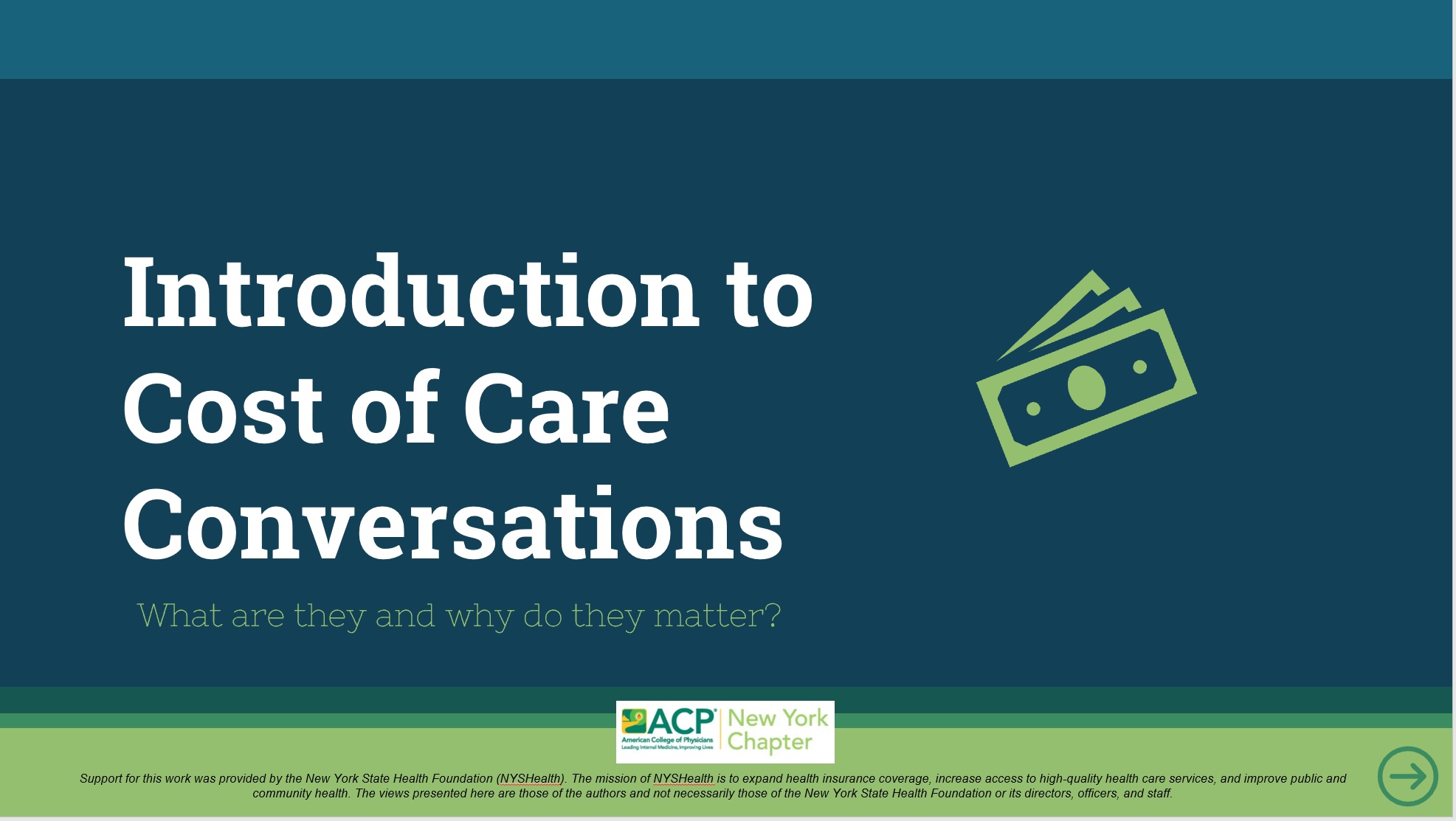 Download slides to view Module 1
---
Cost of Care Tools and Resources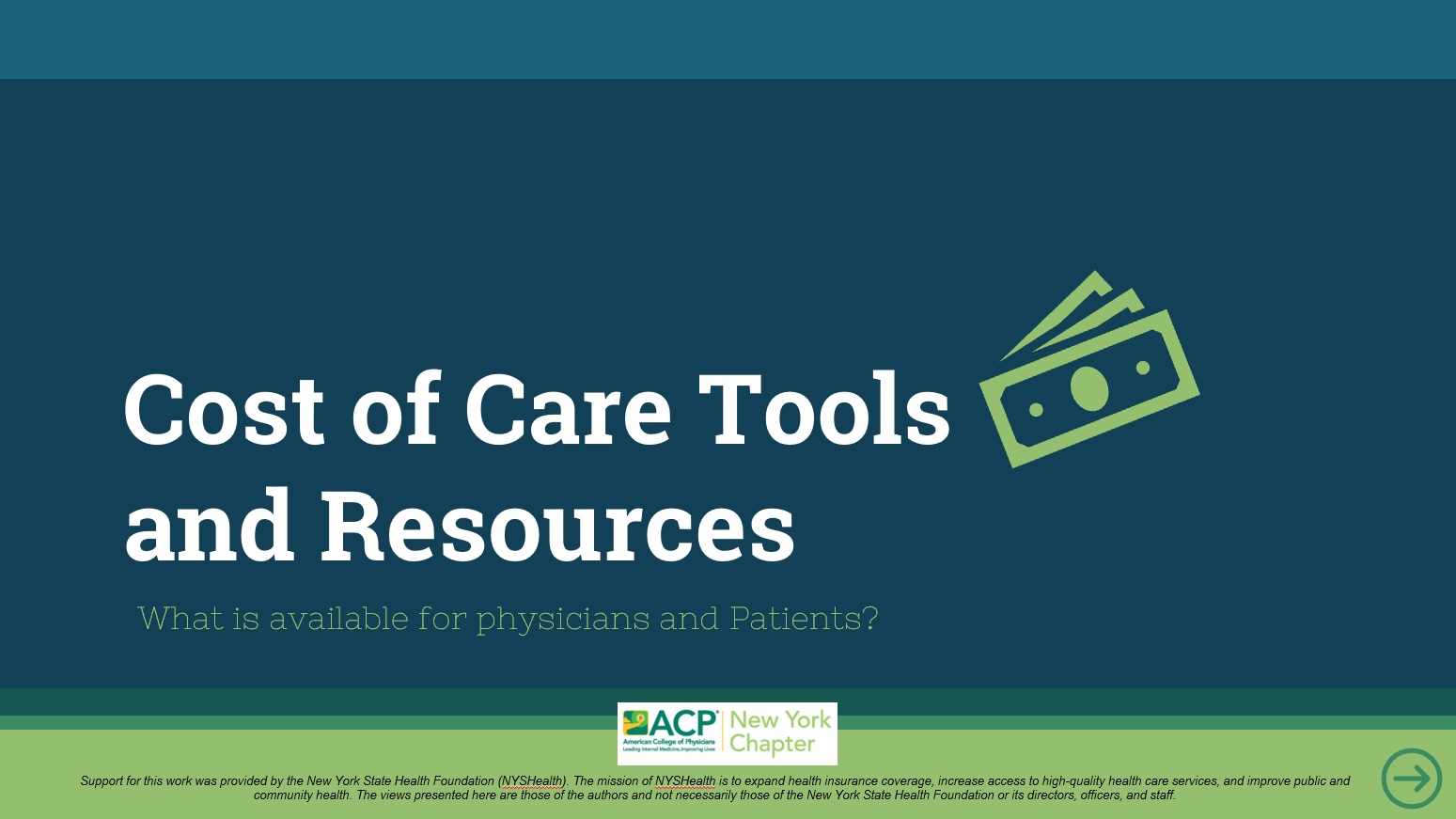 Download slides to view Module 2
---
Integrating Cost of Care Conversations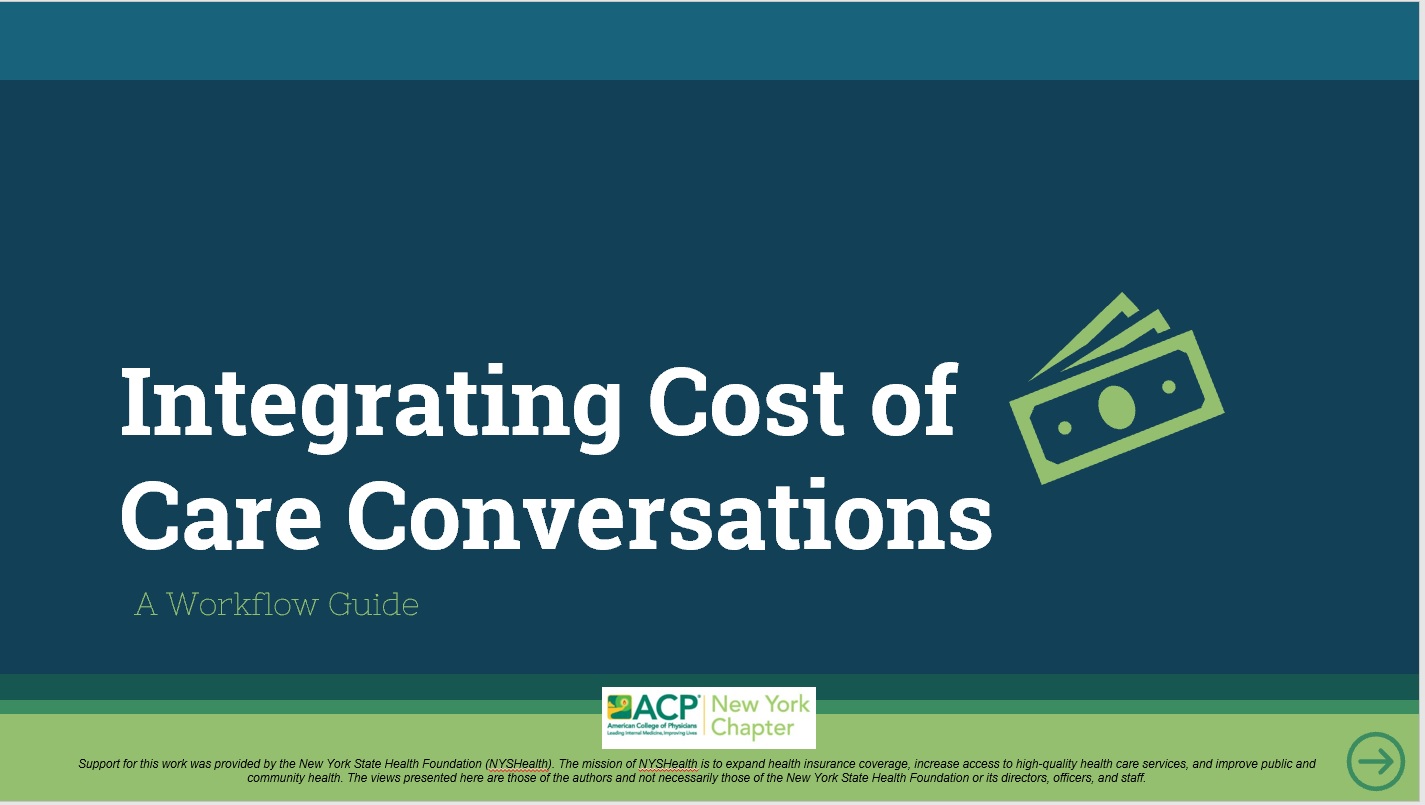 Download slides to view Module 3
---
For questions regarding this course, please contact:
New York Chapter of the American College of Physicians
744 Broadway
Albany, NY 12207
(518) 427-0366
---
Home
Last Updated: 6.29.2021