NYACP: A Partner in Connecting Patients to Information

Jump to:
Conversation Toolkit
Price Transparency Tools
Patient Assistance Resources
Physician Finder Tools
Articles
Podcasts
Webinars
---
In 2018-19 NYACP participated in an initiative to increase awareness and use of quality and cost transparency tools as well as to equip physicians with the skills, resources and tools necessary to have successful conversations with patients. Though it can be an awkward topic, understanding a patient's cost concerns could mean the difference between getting the treatment they need versus forgoing treatment altogether.
We are here to support you in having the quality and cost conversation with your patients and addressing their concerns. Listed below are free tools and resources available to assist you with effectively engaging and empowering patients who are considering cost as a part of their decision making.
---
CONVERSATION TOOLKIT
Resources to Help Start Constructive Cost and Quality Conversations with Patients
ENGAGE
These materials will assist in determining practice readiness, related initiatives, and a shared understanding around the importance of constructive cost of care conversations.
EDUCATE
These materials will assist in training clinicians and staff in skills that support constructive conversations with patients, such as shared decision making. They also provide ideas and guidelines for implementation that can be adapted to your office needs.
Online Tool Guides
Implementation Guidance and Tips
EMPOWER
These materials provide tools, strategies, examples and templates that will assist in providing patients with the necessary information and guidance related to cost and quality of care conversations.
Medical Care Cost Handouts
General Health Literacy Handouts
---
PRICE TRANSPARENCY TOOLS
A list of quality and cost transparency tools vetted by NYACP that will help patients find quality, affordable care.
---
PATIENT ASSISTANCE RESOURCES
Use these organizations and websites to help patients gain access to more affordable care through assistance programs. Many have help lines that patients can contact directly.
Resource Name

Summary

Contact Information

A national non-profit organization that helps patients with chronic, life-threatening or debilitating diseases with:

Finding access to affordable care
Navigating insurance
Financial assistance

+1 (800) 532-5274
Monday–Thursday 8:30am-5pm
Friday 8:30am-4pm ET

help@patientadvocate.org

A NY state-wide network of organizations that help:

Find access to affordable care
Choose health insurance plans
Understand health insurance bills and coverage

+1 (888) 614-5400
Monday-Friday, 9 a.m. – 4 p.m.

cha@cssny.org

A non-profit organization that connects patients to assistance programs for medication, medical and other related costs.

For best results, use their website for:

A non-profit organization that allows medical professionals and patients to search for Prescription Assistance Programs

For best results, use their website for:
---
PHYSICIAN FINDER TOOLS
Patients have different preferences about the Physicians they see. Refer to these tools to compare physicians that meet their personal preferences.
| | |
| --- | --- |
| Tools Name | Summary |
| | This free site allows consumers to search for surgeons in their area to perform one of 12 major surgery types. The results include: individual ratings in terms of death rates, complications and readmits (all accounting for difficult cases and age), procedure volume, Board Certifications, education, and hospital affiliations. |
| | This New York State Department of Health website allows the general public to view factual information about MD's and DO's who are currently licensed and registered to practice in the state. The information is gathered from state and federal agencies. There are no ratings or scores. It is a way for patients to find information about the educational background, awards, legal actions and hospital affiliations for a physician. Physicians can update their profile with articles, personal statements and additional information to expand their profile. |
| | Enables consumers to find and compare physicians/clinicians participating in Medicare. Profile pages provide information on participation in quality improvement activities and patient survey scores. |
---
---
The aim of the series is to provide you and your staff with actionable information to improve Cost of Care Conversations with your patients.
---
RECORDED WEBINARS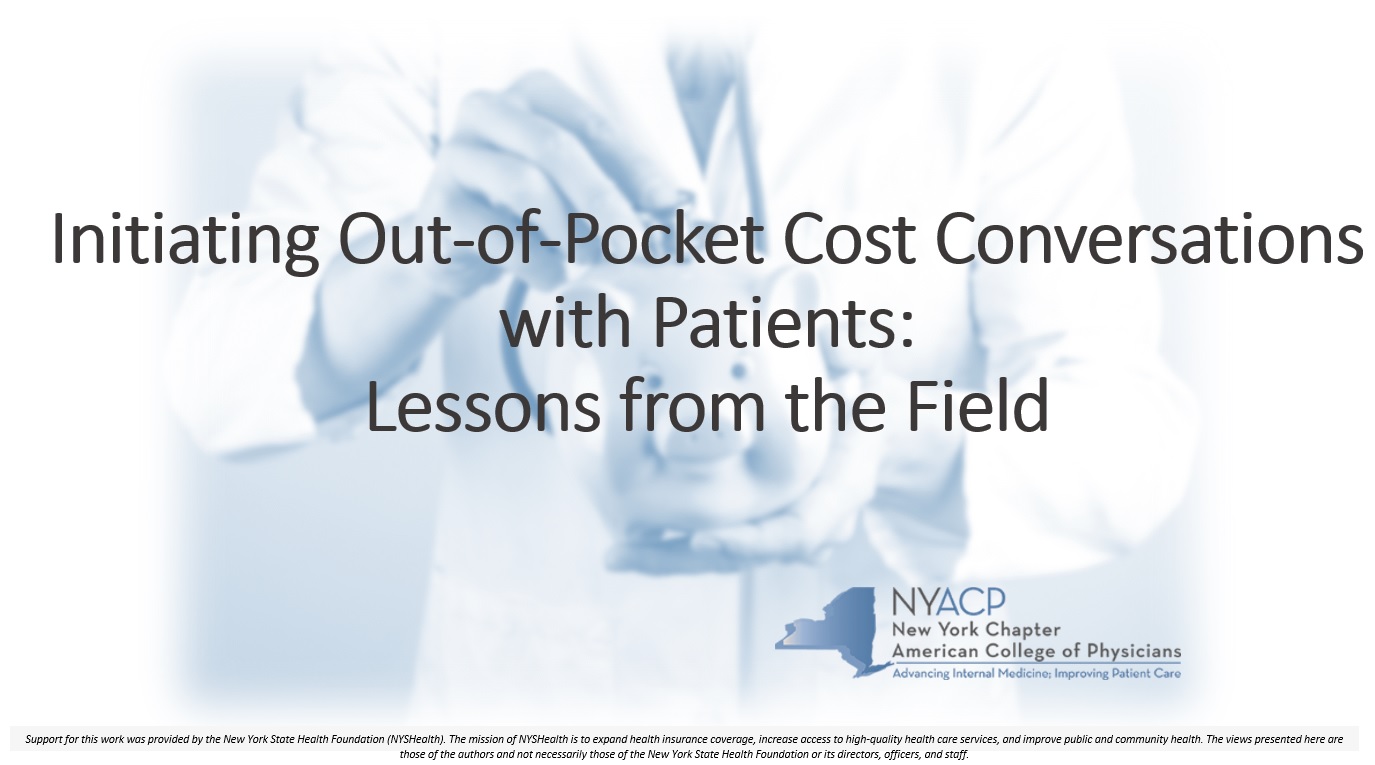 Initiating Out-of-Pocket Cost Conversations with Patients: Lessons From the Field
November 7, 2019
Facilitator: Amanda Allen, Project Coordinator NYACP
Joined by NYACP Members who participated in the Early Adopter Incentive Program.
---


How to talk to your patients about the Cost of Their Care
June 6, 2019
Facilitator: C. Jessica Dine, MD, MSHP, FACP
View The Webinar
Presentation slides
---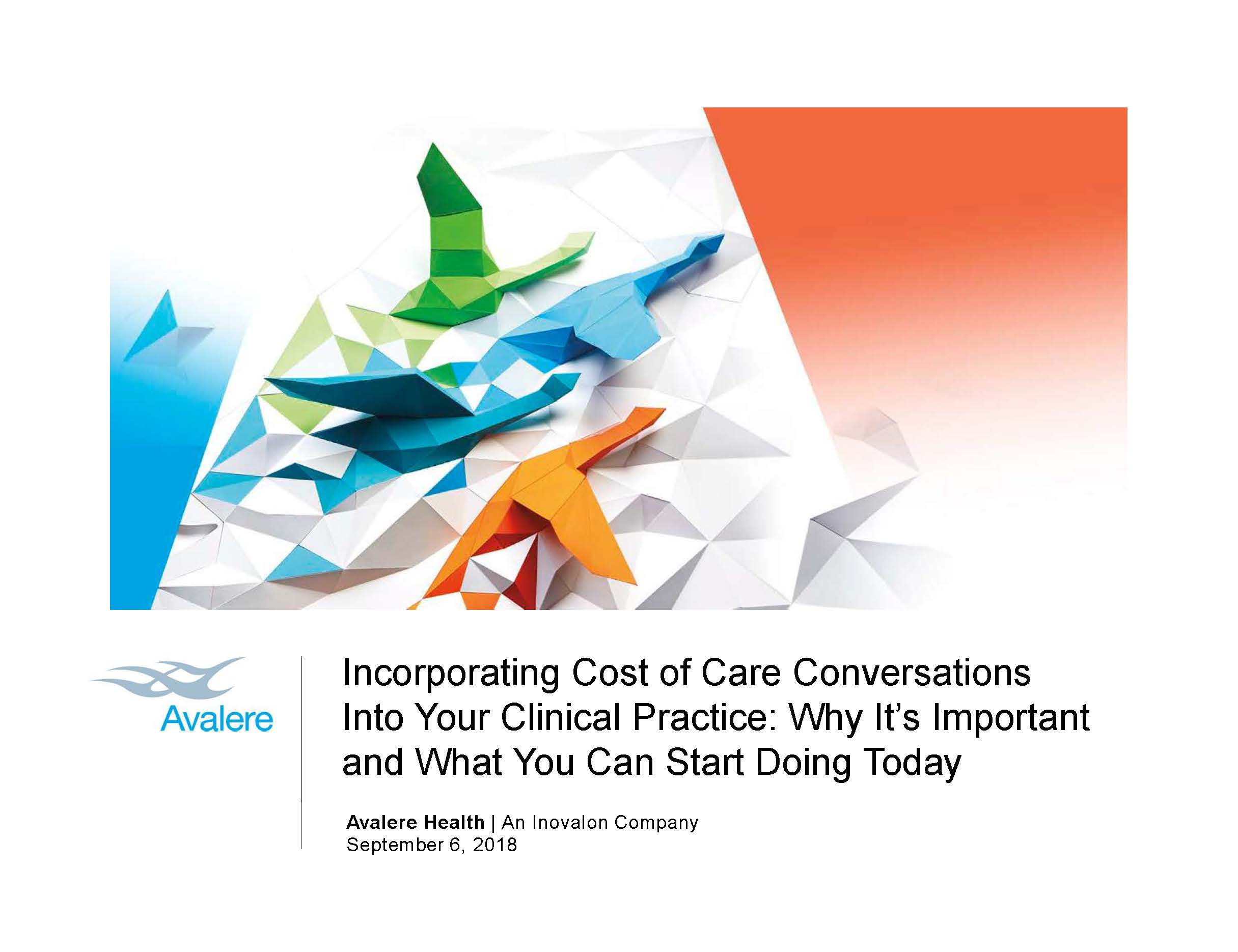 Incorporating Cost of Care Conversations Into Your Clinical Practice: Why It's Important and What You Can Start Doing Today
September 6, 2018
Facilitator: Avalere Health
Handouts
View the Webinar - audio begins at 1 minute 27 seconds


---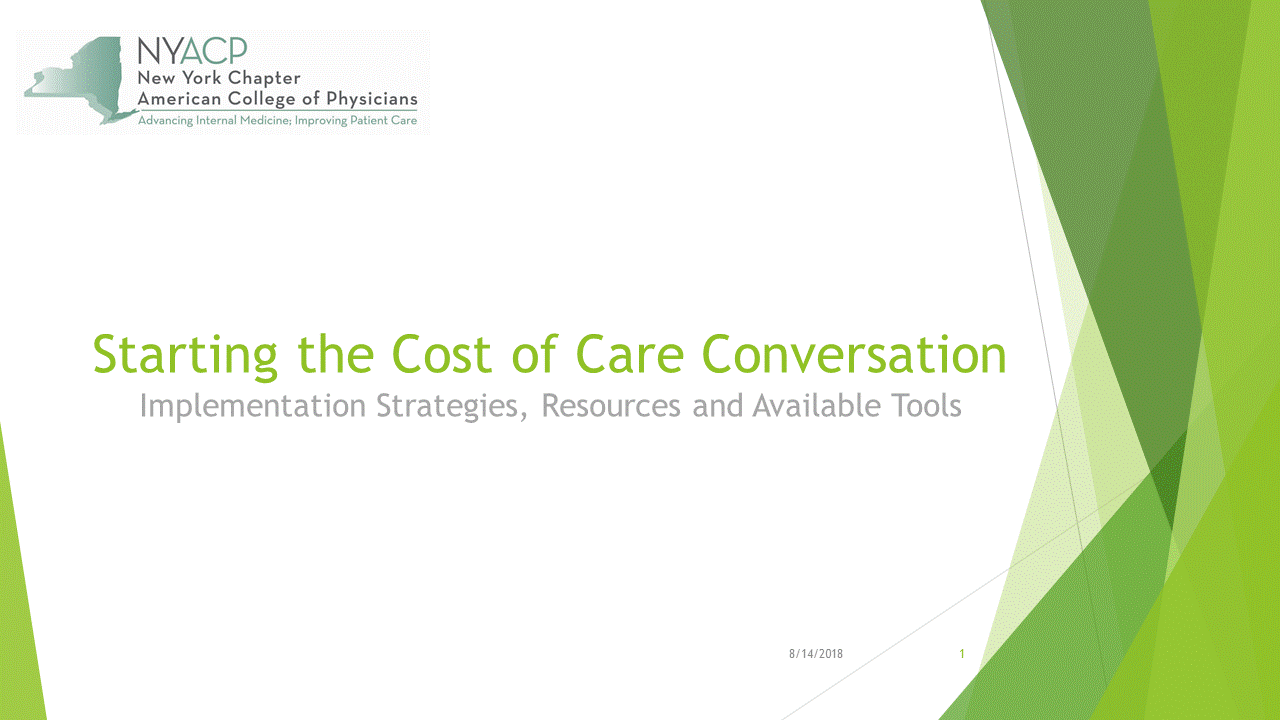 Starting the Cost of Care Conversation: Implementation Strategies, Resources and Available Tools
August 15, 2018
Facilitator: Amanda Allen, Project Coordinator
Handouts
View the Webinar

---
Home
Last Updated: 6.29.2021